"I've always loved a bit of fantasy in an interior," says Mary McDonald. The Los Angeles–based designer recently collaborated with Schumacher on a new collection of fabrics, wallpapers and trims, including a set of two stunning trompe l'œil wallpaper panels that bring an element of fantasy to any space. Called Shell Grotto, the panels feature hundreds of hand-painted seashells arranged symmetrically to form classic shapes, creating the illusion of interior architecture.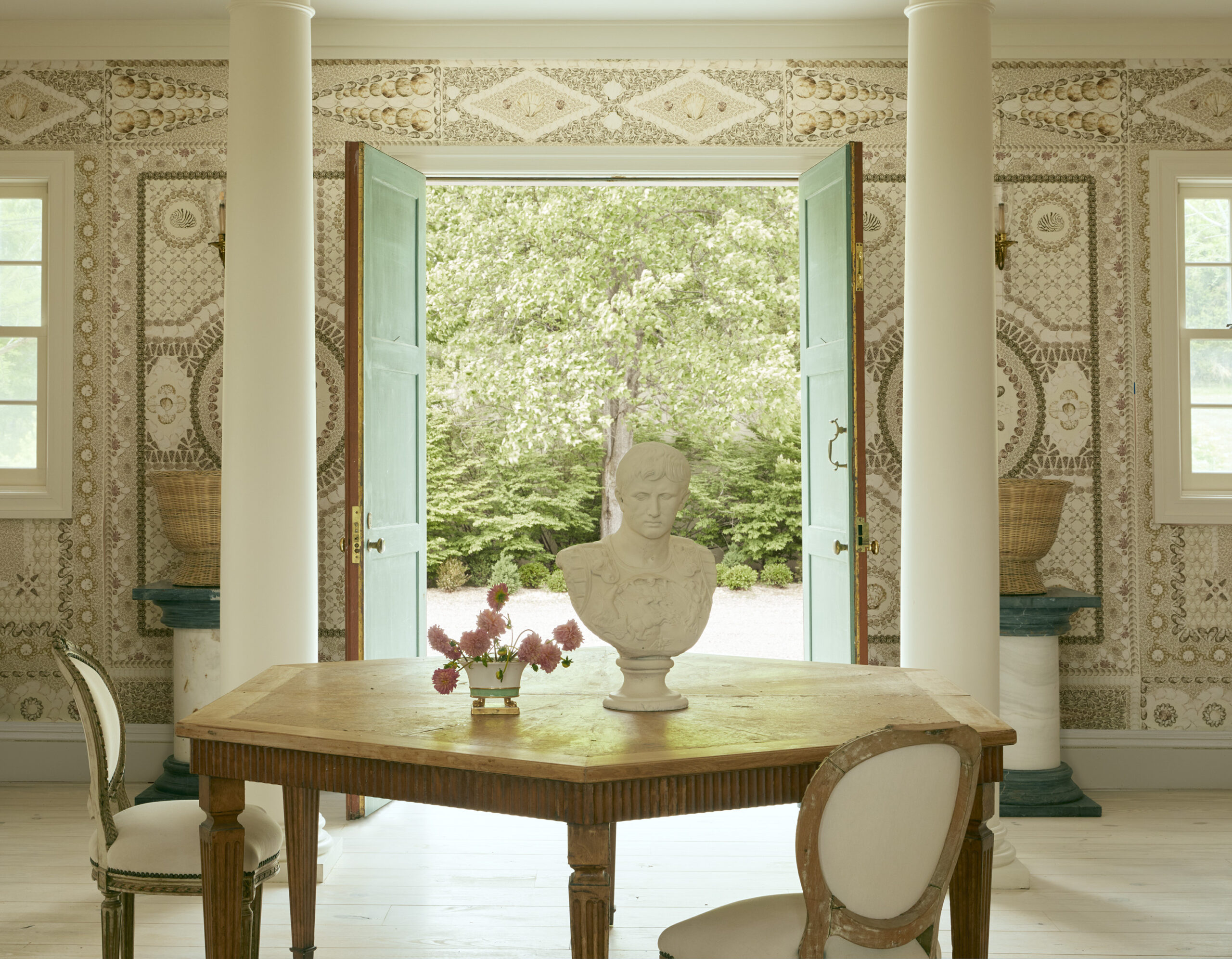 McDonald was inspired by historic shell grottos—rooms with walls completely covered in mosaics of actual seashells. These historic ornamental follies were popular in Europe in the 17th and 18th centuries, found everywhere from Italian villas to English manors. "They're quite ornate and complicated," McDonald says of these historic spaces. "The patterning of the shells is very detailed, and it's set on interior architecture columns and paneling. It's a very layered and complicated thing, and I wanted to represent that in the most contemporary, usable way."
Although she hasn't visited what is perhaps the world's most famous shell grotto, Margate in Kent, England, McDonald has explored the under-the-sea-inspired rooms of Italy's Palazzo Borromeo. Created in 1662 by Count Vitaliano VI Borromeo on Isola Bella, an island in the middle of Lake Maggiore, this six-room shell grotto features thousands of mussel, cockle, scallop and oyster shells arranged in pleasing patterns.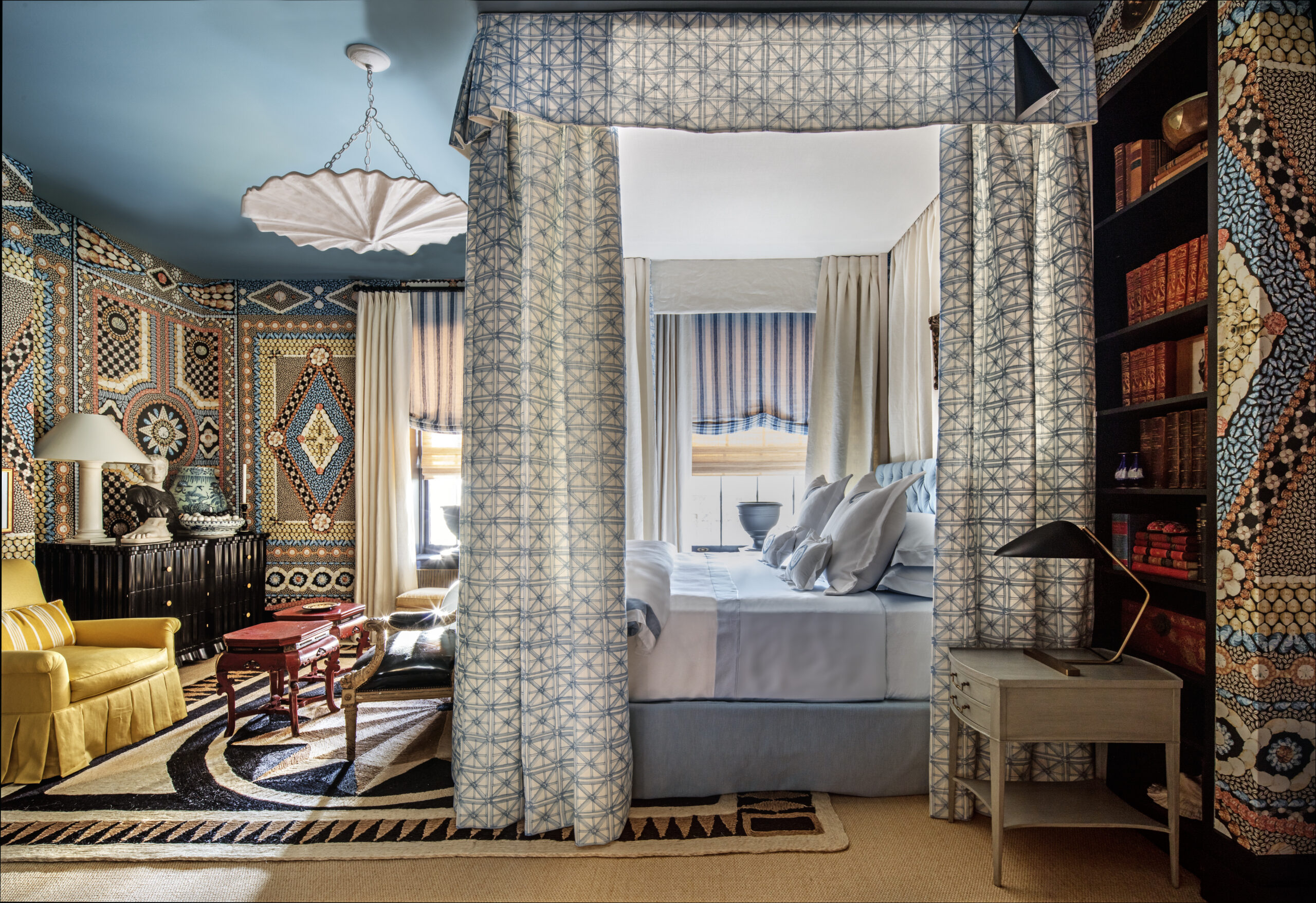 To mimic the intricate look of these wondrous rooms on wallpaper, McDonald and Schumacher's design studio started by configuring an underlying pattern that would work in a variety of rooms. "We had to come up with a block of architecture that seemed appealing," McDonald says, with proportions that allow for easy customization to various standard ceiling heights.
Once the mathematical details were in order, McDonald turned her attention to the shells. "You need to have all kinds of shells," she says. "It was not about a repeat for me." McDonald took photographs of shells and sent them to one of Schumacher's artists, who painted each image individually. Then came the task of arranging the shells to follow the predetermined architectural patterning. "We had to rework it five to ten times because certain shells didn't have the right glamorous appeal," McDonald says—but the finished product was well worth the effort. "The result is fanciful, delicate and classical. It's not too sweet. It's pretty bold and strong, actually, but at the same time, it's pretty even."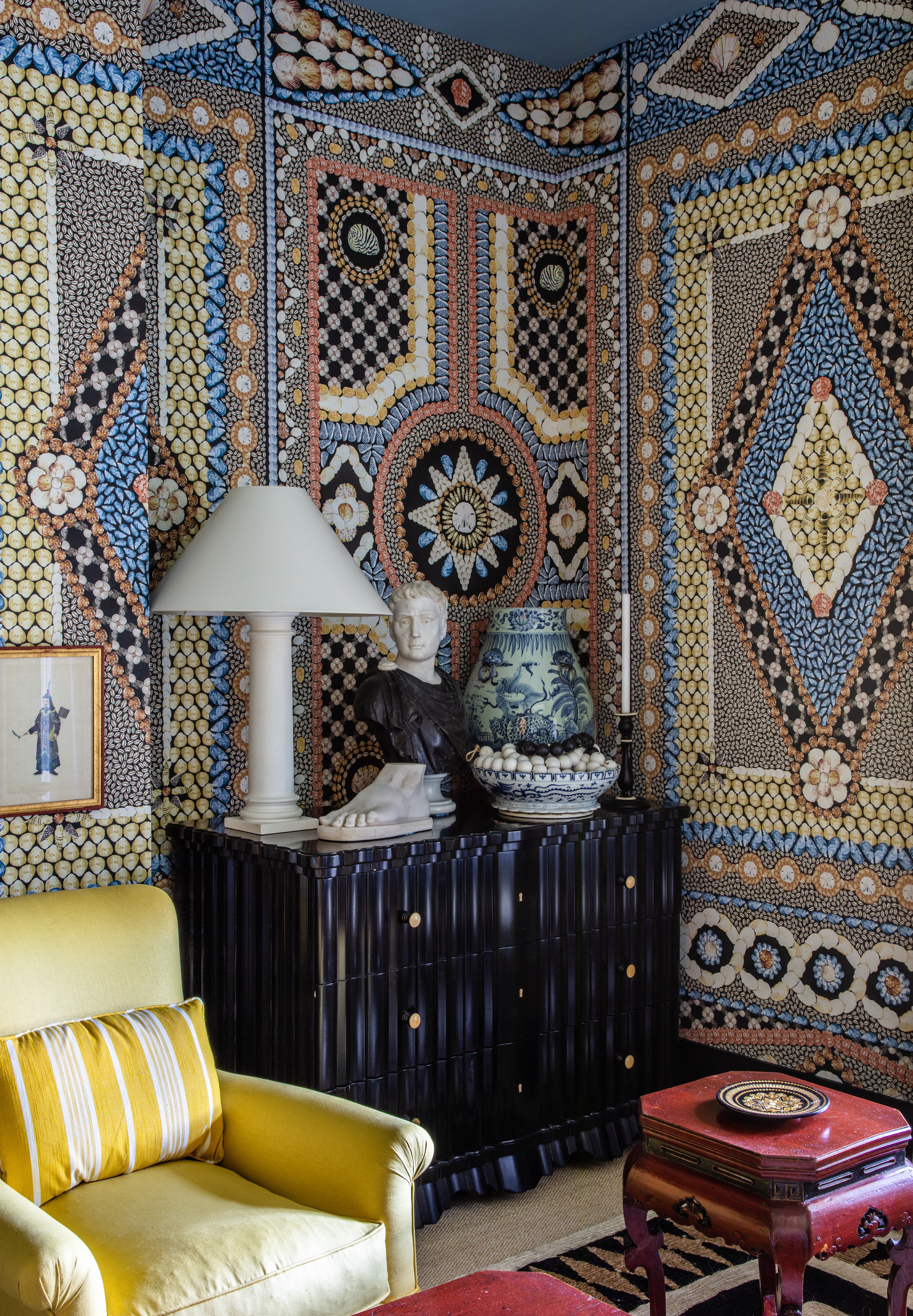 "There are so many ways you can use them," says McDonald. "That's the fun part." She designed two panels for the series, multiplying the decorative possibilities; different architectural effects can be created by repeating a single panel or alternating the two designs. She notes that the top and bottom borders are not the same, which is a way of "repeating the complicated walls that you see at a real old shell grotto." Turn the panels sideways, cut off the borders or make them surround doorways or windows. You can even cut out the shells and decoupage them. McDonald encourages creativity and says that Shell Grotto is "unlike regular wallpaper."
For one stunning installation example, look no further than McDonald's own recent room at the Kips Bay Decorator Show House New York. She covered the walls of the bedroom in a combination of both panels of the Onyx Multi colorway, which feature naturally colored shells against a black background. "I chose the black one because I like drama, and I like the contrast," McDonald says. The more subtle colorways offer different feelings and moods. "When you put Sand in front of a couple of antiques, it is so soothing and architectural. It doesn't even read busy. It just reads layered and interesting," she says. "And I love the light blue—I think there'd be nothing prettier than a beachy bedroom with this light seafoam blue-and-white paper and all-white furniture."
I've always loved a bit of fantasy in an interior.
Despite their oceanic motifs, McDonald doesn't think the panels are limited to beach houses. She recommends using them in "any room that you want to be a jewel box or where you want to make a statement"—whether an entryway, a powder room, a dining room or beyond. It's clear McDonald had tremendous fun creating the panels, and she hopes other designers and homeowners enjoy them as much as she does. "You can see how complicated and fanciful and based in classicism the whole crazy thing is," she says. "I'm mad about the fantasy of it."