Elena M. Sarni is a humanities-based scholar, writer and curator. Her book Trailblazing Women Printmakers: Virginia Lee Burton Demetrios and the Folly Cove Designers is the first comprehensive book on the topic. It is available for pre-order here and will be in bookstores August 29. You can follow Elena on Instagram @pinetreepopup.
It is said that the block-printing collective Folly Cove Designers began in 1938 as a simple Yankee swap between neighbors. In the quaint, remote neighborhood of Folly Cove in Gloucester, Massachusetts, Virginia Lee Burton Demetrios—a renowned illustrator and author of children's books, including the 1939 classic Mike Mulligan and His Steam Shovel—began giving design lessons in exchange for violin lessons for her sons. Virginia's informal teachings soon expanded to community-wide design classes, and ultimately led to the formation of one of the longest-running and most successful juried artist guilds in American history.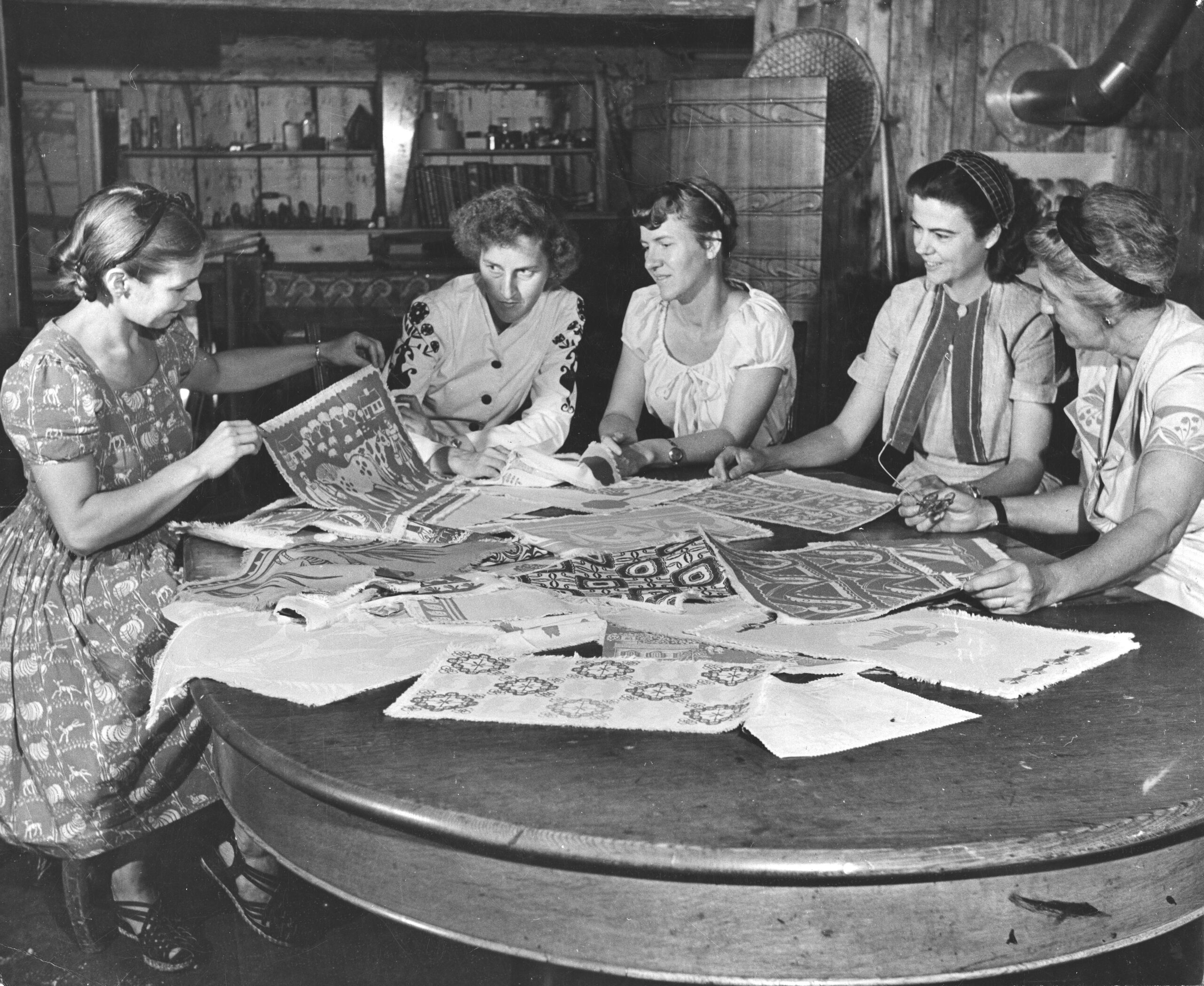 Over time forty individuals became members of the Folly Cove Designers, most of them women. They created block-printed table linens, clothing and wall hangings beloved for their charming depictions of rural life. Between 1941 and 1969 the group produced over three-hundred distinct designs conveying both personal and regional narratives through the use of shared design principles taught to them by Virginia.
From the start, Virginia made it clear that you didn't have to be an artist to join the collective—you just had to be willing to do the work. Aspiring members spent months perfecting designs before submitting them to the Folly Cove jury, a handful of the most experienced designers. Jury approval of a design granted membership to the group—but even members were required to obtain jury approval for each new design in order to maintain the group's high standards.
The subject of each design was extremely important. Members found inspiration in the flora, fauna and community around them, and they were encouraged to draw from life rather than rely on photographs (leading to a few interesting stories about designers struggling to get animals to hold poses). Considerations of size, scale and tone—white to black and all the gradations in between—were also essential.
After hours of sketching, the final design would be transferred to a linoleum block and carved. A hand-operated press was then used to print the design onto fabric—though in the group's early days, the artists actually stomped on the blocks in order to transfer the prints.
The Folly Cove Designers entered their most commercial phase in the mid-1940s, hiring designer Dorothy Norton as their secretary. In August 1945, New York department store Lord & Taylor devoted a full bank of its legendary Fifth Avenue store windows to the Folly Cove Designers; in November 1945, the group was featured in Life magazine.
That same year, the Folly Cove Designers partnered with Schumacher to begin producing a line of printed wallpapers and fabrics on a larger scale. One of the first patterns in the Schumacher collection was Polka Dot Pony, created by Folly Cove Designer Hetty Beatty. Featuring a more modern, graphic look, Polka Dot Pony proved to be one of the most popular Folly Cove designs released by the company; it even made an appearance in an episode of I Love Lucy.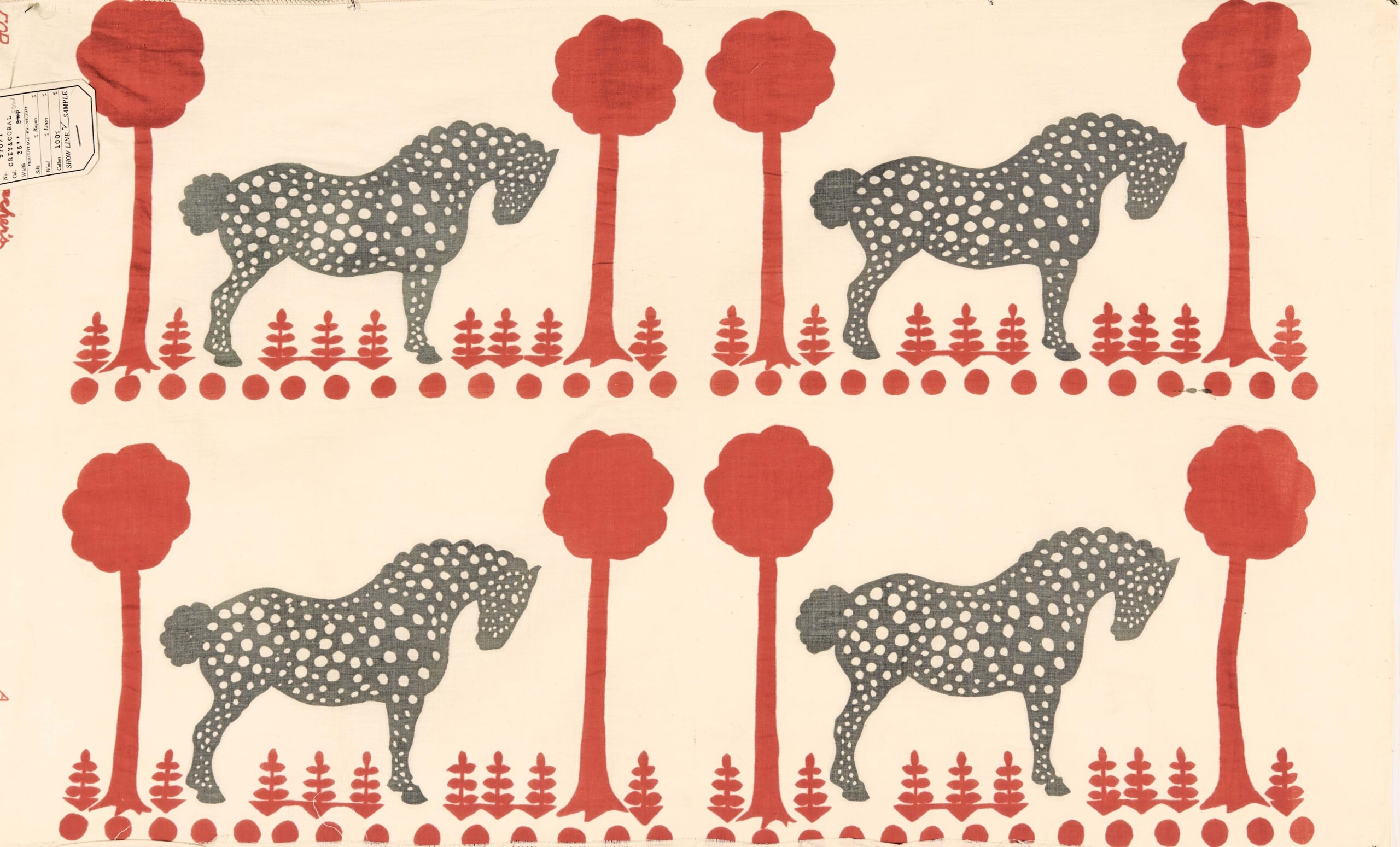 Hetty also designed Schumacher's folk-art-inspired Farm Scene. Farms and horses were popular themes for Hetty, who studied sculpture at the School of the Museum of Fine Arts in Boston before joining the Folly Cove Designers. An active member from the early 1940s through the early 1950s, she later dedicated herself to writing and illustrating children's books.
Georgia Wildflowers, designed by Folly Cove Designer Louise Kenyon, was originally printed by Schumacher for the southern department store Rich's. A gridded pattern of intricately rendered floral silhouettes, it was an adaptation of one of her earlier designs of New England wildflowers. One of eight core designers that stayed with the Folly Cove Designers throughout its almost thirty-year operation, Louise was also one of the group's most prolific artists. Unlike many group members, Louise had an art background prior to her membership; she had attended Skidmore College before transferring to Vesper George School of Art in Boston to focus on drawing and painting. Known for her masterful eye for color and ability to mix inks, Louise created highly detailed designs for the group.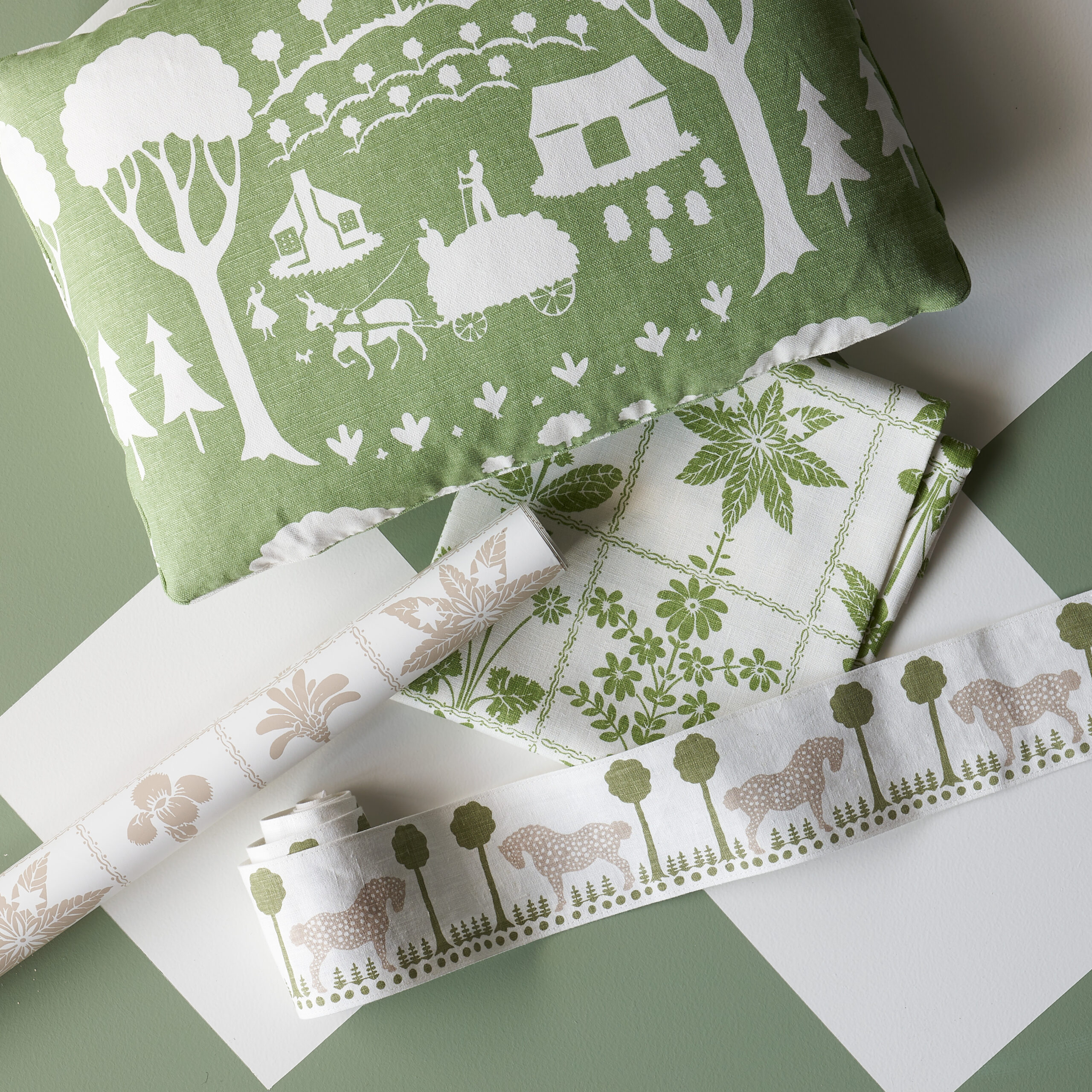 The fabrics and wallpapers created by the Folly Cove Designers had tremendous national appeal, and their nostalgic quality resonates just as strongly today as it did in the immediate aftermath of World War II. The work of the Folly Cove Designers represents a permanent visual legacy of this vibrant community, communicated in the compelling language of pattern. Schumacher's rerelease of these three archival designs in a fresh, new palette underscores the Folly Cove Designers' incredible artistry, which continues to inspire printmakers, textile designers and pattern lovers everywhere.