Caroline Z Hurley did not set out to be a textile designer. But on a trip to Bali, an area known for its rich textile traditions, the Brooklyn-based painter was so inspired by the many patterns she saw that she began experimenting with wooden blocks, paint and fabric. Hurley started incorporating printed linen into her paintings, and was soon making pillows and throws to give to friends. She connected with a small factory in New Bedford, Massachusetts—a former hub of New England's once-thriving textile industry—and before she knew it, she was producing hand-blocked fabric by the yard.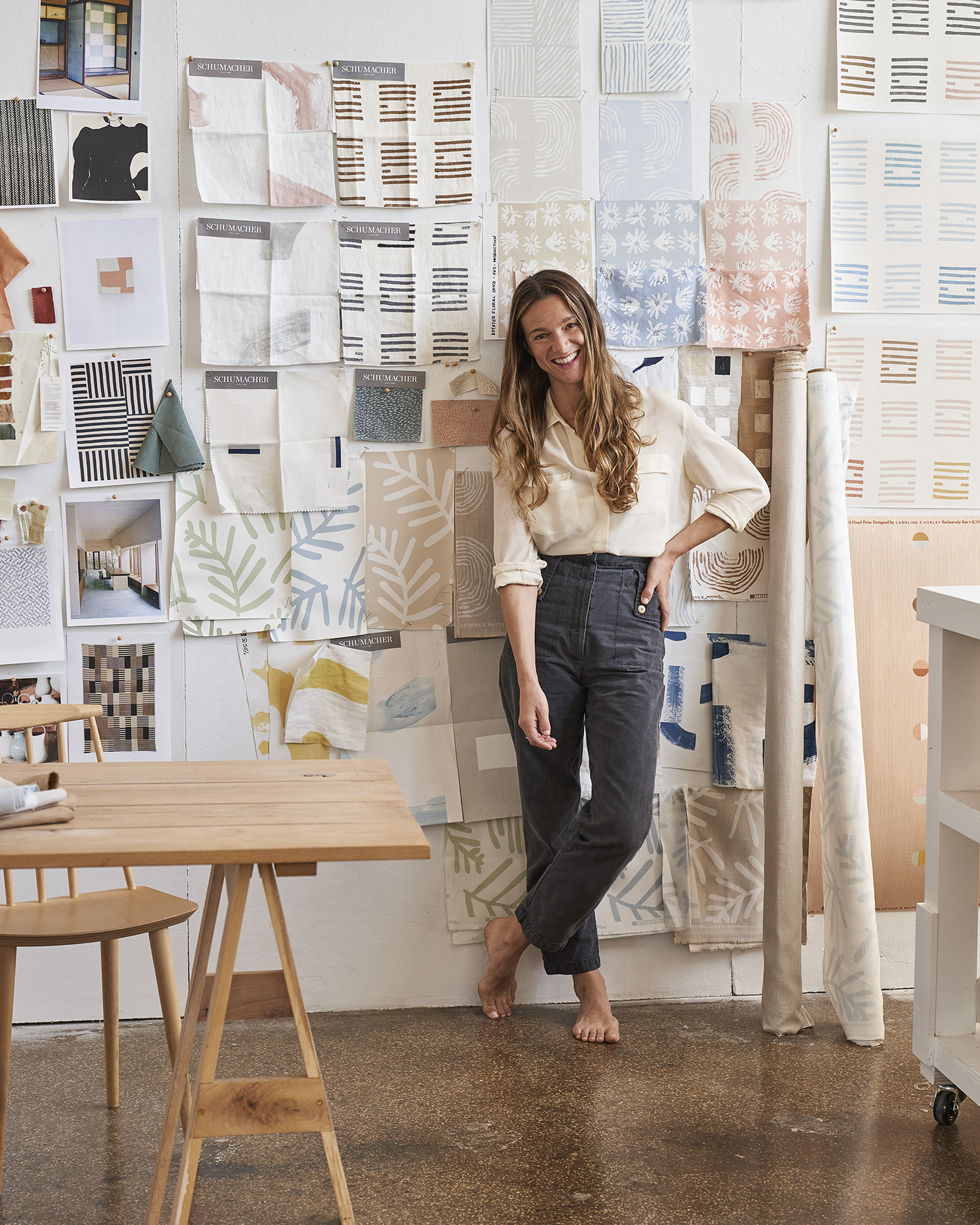 In 2017, Hurley's artful, organic designs caught the eye of Schumacher, and a collaboration was born. Her collection now encompasses hand-blocked, printed and woven fabrics as well as wallpapers and pillows, all based on her own deeply personal works of art. Each design "starts from some kind of inspiration that I see out in the world, usually from travel," Hurley says. Her first Schumacher release was inspired by her favorite destination, Martha's Vineyard, with pattern names—Menemsha, Ice House, Tiasquam—that reference beloved island locales.
The process of developing a pattern begins back in Hurley's studio. Using photos and videos for reference, "I block print on paper and get some ideas going," Hurley says. "Then I put those prints in my computer and play around with colors and repeat." Hurley's pattern work centers on an "alphabet" of 26 shapes, but she's currently expanding her character library to include more nature-inspired shapes. Limiting the number of figures she uses is intentional. "I am really inspired by the less-is-more concept," Hurley explains. "I find myself to be more creative when I have really strong boundaries."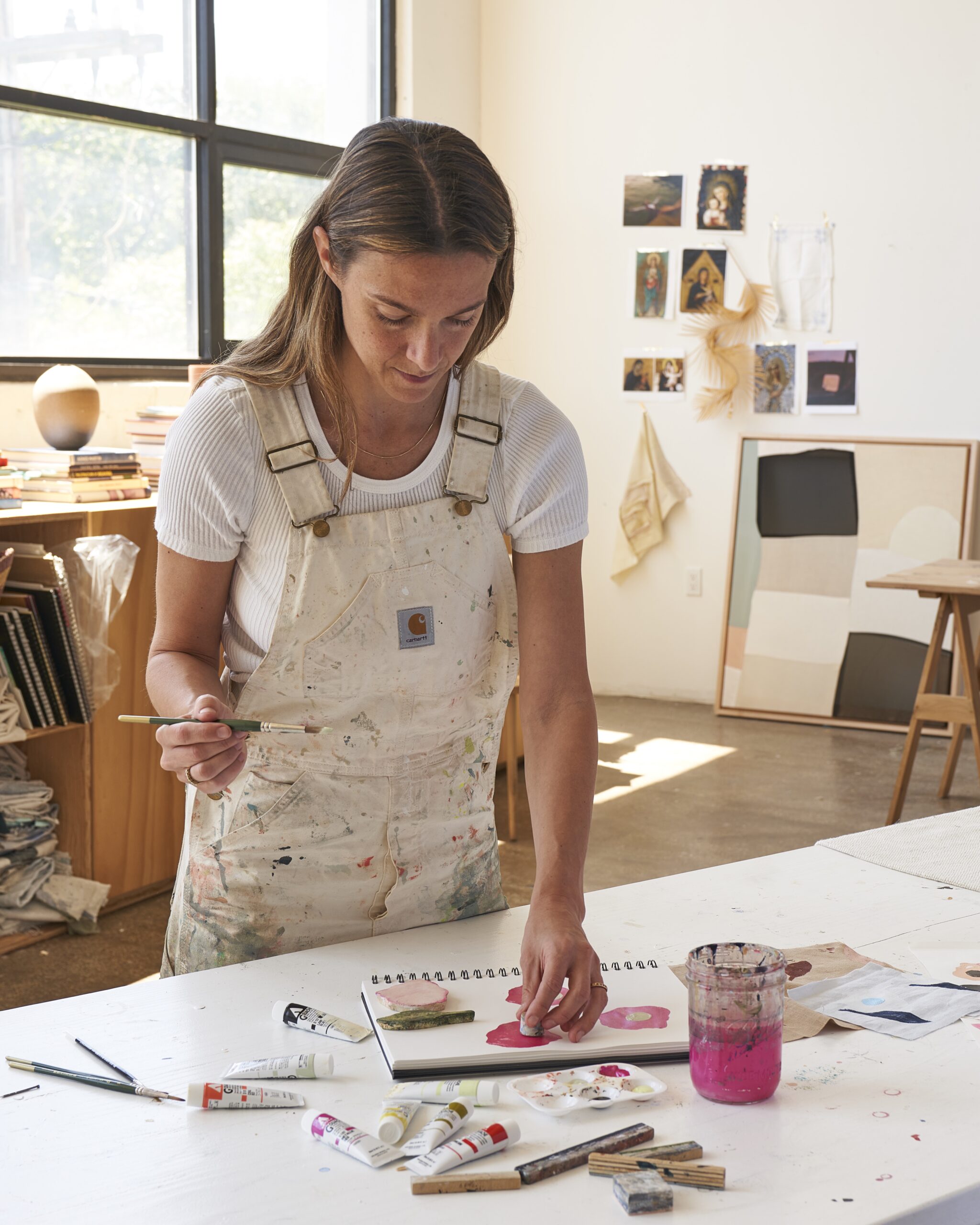 Once she's happy with a pattern, Hurley works with her team of eight artisanal block printers in New Bedford to tweak the print to perfection. To create one of her hand-blocked textiles, Hurley carves each block by hand from wood or linoleum, then precise multiples are made using a laser cutter. The blocks are hand-painted with non-toxic acrylic and stamped onto linen one by one.
This old-fashioned, time-consuming process is what sets Hurley's designs apart. "The craftsmanship is apparent, and you can tell each piece is handmade," Hurley says. "It brings a certain quality into the home that is special." Forging a sense of home is important for Hurley, especially now that she has two young daughters (one is two years old, the other ten months). She says that becoming a mother has made her a better artist. "I feel more creative seeing my children work on things using their hands. It's inspiring to see these new little beings start to put color on paper and be visual."
I am really inspired by the less-is-more concept. I find myself to be more creative when I have really strong boundaries.
Life for Hurley is busy these days—along with creating new textile designs for her namesake line, Hurley recently released a capsule clothing collection with Madewell—and she doesn't have as much downtime as she used to. But she says her work grounds her, and that this sense of grounded-ness is what keeps her moving forward. Hurley hopes her fabrics elicit the same response when used in someone else's home.