Your time is your most precious asset, so don't waste it! Learning how to manage your days without getting lost in the details is key not just to your success, but your happiness too. How to unlock the secret to an efficient workweek with time left for yourself on the weekends? Ask the people who've got it all figured out. That's exactly what CEO of Schumacher Europe Benni Frowein did when he sat down with designers Margarita Bravo, Allison Caccoma of Allison Caccoma Interiors and Nick Olsen of Nick Olsen Inc. to talk all things time management. Here, their advice on when to delegate, where to get help and how to get a lock on the best parts of the job.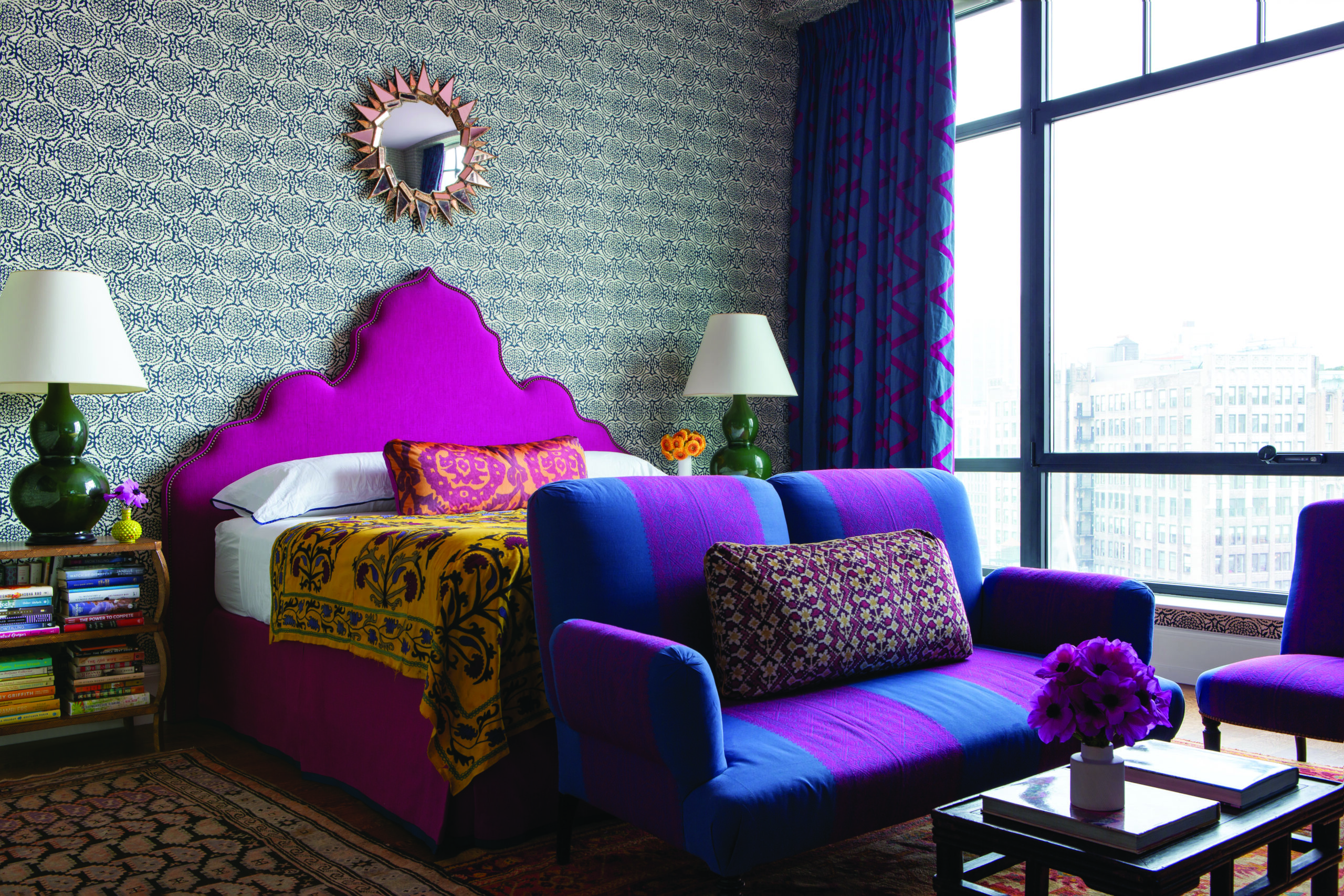 First, Draw Some Boundaries Around Your Personal Time
Interior design is a service business, and you want to make your clients feel like they are your top priority. But be careful, because your job can easily take over your life, with clients texting and calling you at all hours. Our panelists know from experience that this can become a big problem, so it's up to you to set your working hours and stick to them.
"Believe it or not, I have some friends who state in their contracts that they don't work weekends or after six p.m.," says Nick Olsen. "That's bold. But honestly, as my dear sister says there are no decorating emergencies, and this is a business that I conduct from ten a.m. to six p.m., Monday through Friday. Every client is different, so sometimes I say that explicitly and sometimes I say that by example. If a text comes in at ten p.m., I don't respond until the next morning. It's as simple as that. But some people do take liberties."
For Margarita Bravo, weekends are strictly off-limits. "My boys are very active, and I'm really focused on quality family time on Saturday and Sunday. It has to be a real emergency for me to take a call or go on a site visit," she says.
Meanwhile, Allison Caccoma says her boundaries are "slightly softer." Hers is a very personal business, and many clients have become friends. "I have business hours, but I have clients who want to meet after hours at the shop, and I'm okay with that. A client texted me over Labor Day weekend and asked if I could go look at a house they wanted to purchase, and I said of course! It's a bit of a careful dance, but I think it's okay to chat after hours within reason."
Next, Decide What You Can Delegate…
No one is good at everything! Chances are that someone else might be more efficient (and better!) at some jobs than you are. Learn how to move those tasks off your plate and onto someone else's, so you have more time to leverage your strengths.
Here, a list of the things our panelists leave for others:
Bookkeeping, accounting and tax preparation services. "So essential in this industry, but it's not something you should try at home, so to speak," says Olsen. Caccomma recommends going one step further and hiring a CFO consultant. "That is the best thing I've ever done, and I can't recommend it enough for any small business," she says. "Having someone oversee and strategize our overall financial picture has been a lifesaver."
Certain client communications. Formatting information-heavy emails regarding things like purchases of art or auction lots can be time-consuming. "People on my staff can put that together before I'm even finished talking, while it would take me half a day to resize all the photos and make it look presentable," says Olsen.
Anything tech-related. "I am the least tech-savvy person, so that gets delegated to my team," says Caccoma.
Daily project management of renovations and new construction. "I visit the job site once a week or whenever we're making design decisions, but having a person on our team to oversee things on a daily basis is key because I can't be there all the time," says Bravo.
Project coordination. "That means everything from getting quotes from vendors in workrooms to preparing purchase orders and cutting checks. I oversee and approve everything before it goes out to a client or vendor, but my team does the groundwork, which gives me time to do more macro tasks," says Caccoma.
Scheduling deliveries with contractors and vendors. "I try to be smart about how I allocate my time, and getting bogged down in details is not effective," says Bravo.
…And What You Can't
Having a creative vision is your number-one job, and all three panelists are adamant about carving out the time necessary to do the design work themselves. "People hire my firm based on my designs, so the vision for any room has to come from me," says Caccoma.
Besides, for Olsen the initial scheming for any project is the most fun part of the job, so he would never dream of giving it up. Plus, it's the foundation on which his entire business rests. "I'm only as good as my last room, so I definitely can't delegate that! I sign off on every fabric, every wallpaper, every trim, every tape in every room."
For Bravo, that initial design phase extends to the first meeting with clients. "I really want to listen to them and understand their lifestyle so I can bring my own style and translate it into the space they're dreaming of."
Another thing all three designers agree you shouldn't let go of: activities that inspire you. In addition to shopping and sourcing, Caccoma says things like travel, going to museum shows and galleries and reading design magazines keep her creative mind engaged. And Olsen? He adds following auction results to that mix. "I'm obsessed with auction houses so I'm often up at one a.m. following Phillips in London, but it's fun for me so I would never give it up."
Lastly, all three panelists agree that they keep tight control over their social media content. "It's not about the followers, it's about the presentation of your work," says Olsen. "It's your voice and your aesthetic, and it's a place where you can control the narrative."
Tips for Delegating Effectively
Be prepared: Bravo spends a lot of time prepping for weekly meetings with her team. "I make notes in advance and make sure everyone knows their responsibilities and is clear on what they're doing for each project."
Delegate but discuss: Caccoma is an advocate for figuring out the best way to get through the day as a team. "Rather than me saying 'you need to do this,' we figure it out together. And at the end of the daily meetings, we all know what's on the to-do list for today and tomorrow. It's a great way to start the day."
Know Where to Find Help When You Need It
Other designers know what you're going through, and they can be an incredible resource when it comes to finding good freelancers. Don't be afraid to reach out to your peers and ask for a recommendation, even if you've never met in person. "I freely share my sources, and if I ever need a recommendation I go to my colleagues and hope that they are as transparent as I am," says Olsen.
Know How to Manage a Client Who Is Holding Things Up
Everyone has encountered that client: the one who takes forever to reply to emails or dithers for weeks over every choice. And that can cost you. How do you handle someone who seems stuck in indecision mode? "I try to put myself in the client's shoes," says Caccoma. "These are big decisions, but I remind them that time is money. The faster they make decisions, the less it will cost."
Stay Organized!
When it comes to being efficient, it's so important to implement good project management systems. Even if you're tech-averse, calendars, spreadsheets and good software programs are your friends. Take it from Olsen and Caccoma: They both avoid tech, but they rely on Design Manager.
Want to listen to our full conversation about time management? Watch the full video with Margarita Bravo, Allison Caccoma, Nick Olsen and Benni Frowein below and be sure to follow Schumacher on YouTube for more interviews with interior design tastemakers and webinars on the business of design.