As the past few years have shown us, the world is full of surprises. Among them: the speed with which people have embraced virtual everything—meetings, relationships, life. The design world is no exception, and clients are increasingly searching for virtual design consultations and room re-designs from people who will never step inside their homes. To learn how to incorporate e-design into your firm, Benni Frowein, CEO of Schumacher Europe, sat down with Marie Flanigan of Marie Flanigan Interiors, Shea McGee of Studio McGee and Andrea Schumacher of Andrea Schumacher Interiors. There's no one-size-fits-all approach, but they've got plenty of ideas for making e-design a lot more than just a virtual reality.
So What Is E-Design Anyway?
The concept of e-design is still new—and the definition is still evolving. That's evident in the work of the three designers on our panel, who incorporate e-design into their businesses in three very different ways. On the formal end, there's Shea McGee. For her, e-design involves a contract with flat-rate packages that include a specific set of deliverables. "We provide a plan for redesigning an entire living room, including designs, renderings, resources and shopping lists," says McGee. "But then we hand it off to the client for implementation—we never enter the client's home. These are short projects with a clear stopping point that we don't project manage."
For Andrea Schumacher, it's more of an informal arrangement. She simply offers 30- and 60-minute virtual consultations via Facetime or Zoom. Clients pay in advance, and Schumacher texts suggestions for retail products and solutions in real time during the consultation (as a general rule, she does not provide her e-design clients with recommendations for custom or to-the-trade items).
And for Marie Flanigan, who takes on just 10-15 projects each year, it's a complement to her existing business. "It's all about finding new efficiencies in the process," says Flanigan. "It's realizing you don't need to drive all the way across town every time you have a meeting."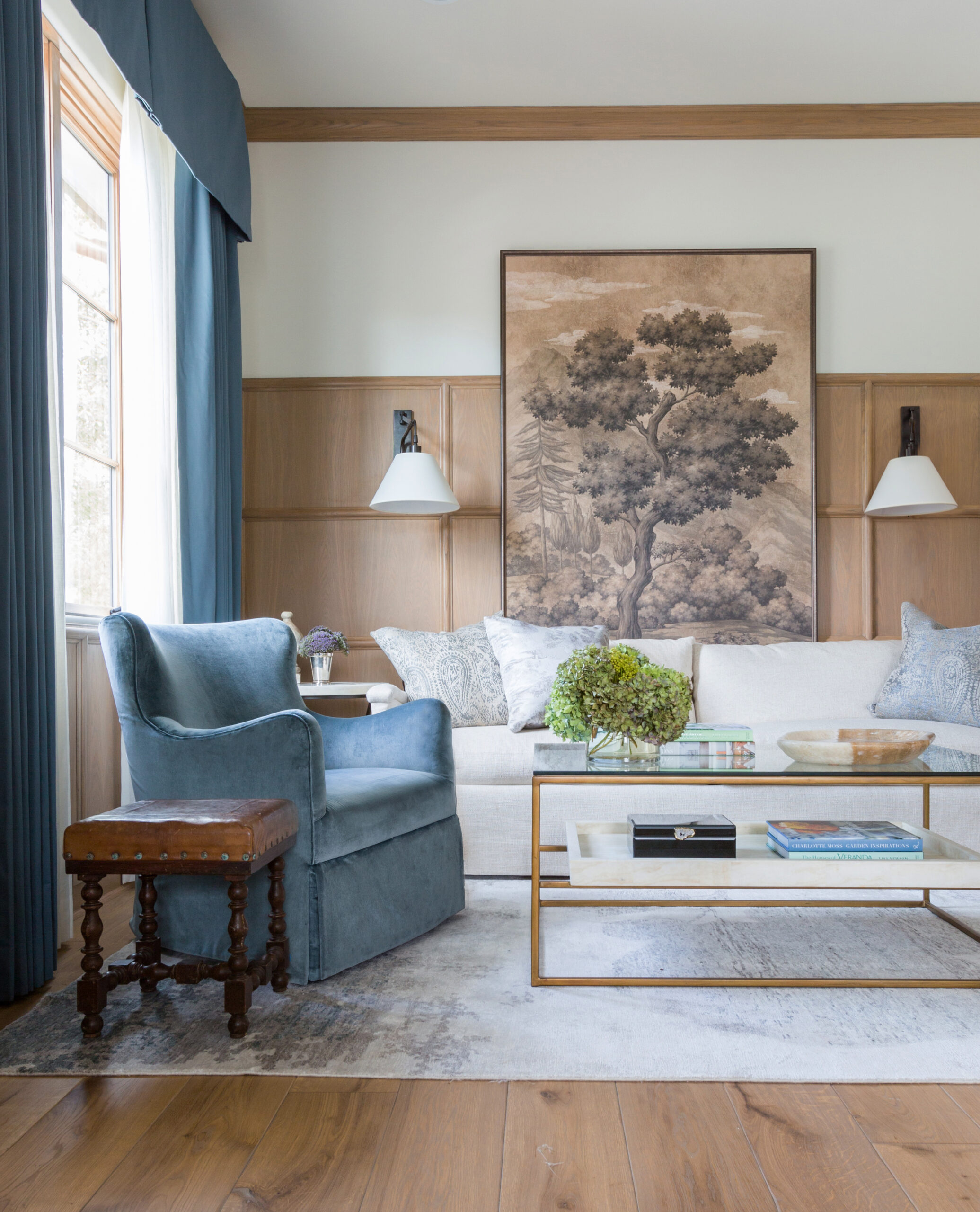 How Can E-Design Benefit My Design Business?
McGee is an advocate of e-design because it makes design more approachable to a much wider audience—including one-bedroom apartment dwellers. "There are people out there who can afford $5,000-$10,000 in design services, but they're not able to afford a couple hundred thousand for full-service design," says McGee. The quick turnaround time of e-design projects also allows her company's designers to fill in the gaps between full-service projects, "and it keeps us nimble and aware of different sources." What's more, it provides a whole new customer base for her company's product lines. "The biggest portion of our business is our e-commerce brand. It's a really great opportunity for us to spec those items."
"For me, there's only upside," says Schumacher of her e-design work. "It eliminates the legwork, and I'm able to give a new service that I normally wouldn't be able to provide. We have a minimum order of $250,000 to work with us. It's fun for me to meet new people and have that one hour to connect with someone who can't otherwise afford us." More importantly, it's opened up the possibility of doing projects anywhere in the world—and Schumacher's e-design consultations have led to several new full-service design clients.
Beyond gaining new clients or a new audience, Flanigan sees the potential for e-design to transform her entire business model. "E-design has given us an opportunity to scale, and it's taught us that you don't even need to work in the same office as your teammates," she says. "We've tapped into 3D renderers and draftspeople across the country to extend the services we offer."
How Much Should You Charge?
Rates vary as widely as the definition of e-design—but don't expect to get top dollar. "In my experience, e-design clients do not have an open checkbook that allows them to pay hourly until the end of time," says McGee. "They want to know exactly what they're getting into from the beginning." For that reason, she offers a suite of flat-rate packages. Her price increases if the client wants specs for custom cabinetry, full 3-D renderings, and multiple rounds of revisions.
Schumacher's pricing structure, meanwhile, is very simple: an hourly rate, with the understanding that e-design clients only receive recommendations for retail products and solutions; custom and to-the-trade items are reserved for full-service design clients, who pay more for her time. And Flanigan? She charges the same standard hourly rate regardless of whether a meeting takes place virtually or in person.
How Do Client Relationships Factor In?
While a positive partnership is normally crucial, it's not such a crucial a factor with e-design clients. That's because your relationship tends to be limited—in Andrea Schumacher's case, it can last for as little as 30 minutes. "It's very informal, so the fit doesn't matter so much," says Schumacher. "If it's a great fit, they might become a full-service client. If it's not, I haven't lost anything."
McGee agrees that the scope of e-design projects are limited, but it's still important to have your contracts buttoned up. "You never really know what a client is like," says McGee. "People have come back to us a year after an e-design project is finished and said, 'I tried to order this and it's out of stock. And now I need you to pick something else.' If you've got a good contract, it can solve a lot of issues."
It's All in the Details
A few tips for handling the nitty-gritty, from client measurements to ordering samples:
Be sure your contract includes wording that stipulates you are not responsible for mis-measurements supplied by the client. "I even have a separate box that clients have to check and approve all measurements before sending them to us," says McGee. She also likes to have her clients tape everything out on the floor with painter's tape. "They can actively walk through the space to make sure everything fits the way they want, and say, 'Hey, that chair in the corner looks good on the space plan, but it's just not feeling right to me.'"
Review samples virtually and narrow down the choices before sending physical samples to your clients. Once you've winnowed the field, send one set of samples to the client and keep one set as a reference.
Our panel successfully use a number of programs in their e-design projects: Marie Flanigan prefers Photoshop, while Schumacher uses AutoCAD for 3D renderings and InDesign or PowerPoint for concept boards.
Want to listen to our full conversation about e-design? Watch the full video with Andrea Schumacher, Marie Flanigan, Shea McGee and Benni Frowein below, and be sure to follow Schumacher on YouTube for more interviews with interior design tastemakers and webinars on the business of design!