Since it first took hold in 2020, the shift toward remote work has only accelerated. Like open kitchens and see-through bathroom walls, it might be a phenomenon you find a little unsightly—but you still need to figure out how to make it work. When done right, remote work can dramatically boost your business and open up whole new avenues for growth. To help you see the potential in doing virtual work, Schumacher Europe CEO Benni Frowein pulled together a trio of top designers—Mikel Welch of Mikel Welch Designs in New York, Samantha Todhunter of London-based Samantha Todhunter Design and Sara Barney of Austin's BANDD/DESIGN—who have learned to leverage the power of working online. Read on for their tips, which put virtual work in a whole new Zoom-friendly light
Get Techy
Adopting new technical capabilities might not sound as touch-y and feel-y and fun as picking out new fabric schemes, but the end results might produce a whole new kind of feel-good vibes. "I started to do virtual consultations and I learned that I loved them!" says Mikel Welch. "I charge a set fee and the client moves around their space virtually, and then we create design packages so the client can shop the room. I don't have to physically travel to the client's home—it's kind of the best of both worlds."
For her part, Samantha Todhunter adapted her business model and revamped her website, making it much more interactive. "Our website felt stagnant," she says. "Now, our clients can communicate with us directly through it." Not only that, but she's hired someone specifically to run her firm's social media accounts and respond to clients that find her on Instagram or Facebook. "Our reach has really increased since then, and we're capturing an audience that lives online."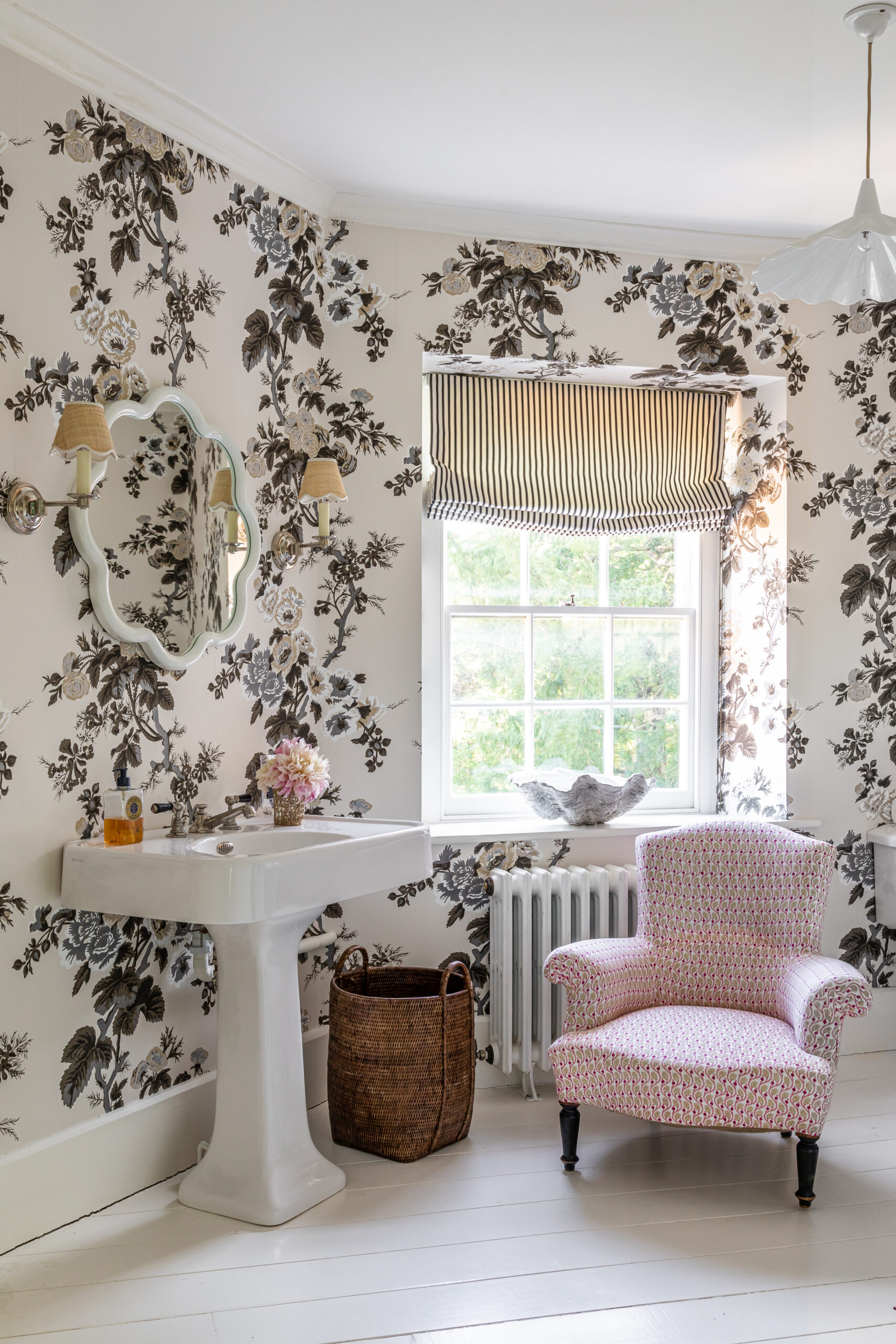 Embrace Virtual Meetings
At first glance, virtual work meetings might seem limiting. But the benefits more than make up for what they lack in in-the-room realness. "They allow not just my business but also the client to be much more flexible in terms of where and when we can do projects," says Sara Barney. "It's a key change that allows us to take on new business that we couldn't have considered before."
Beyond unlocking new opportunities that were once out of the question due to time or geographical constraints, virtual meetings can also cut down on the physical demands of travel. "I used to travel the world with these massive cases of hugely heavy mood boards, but I think that's going to be a thing of the past as our digital boards get slicker and slicker," says Todhunter.
Worried an online presentation won't go over well? Think again. "We just did a 50-page virtual client presentation and it was terrific," says Todhunter, who preferred it to an in-person meeting because it was quicker, less costly, and less environmentally wasteful, too. Rather than sending out physical samples in advance, she used high-quality digital memos during the presentation, and followed up with samples after the choices were narrowed down. "There's so much fluidity at the beginning of a project. Samples aren't really necessary until we get things pinned."
Welch also sees virtual meetings as a blessing, not a curse. "For those who can't afford my entire design service, they can still get a smidgen with a virtual meeting, and there's less investment on my part." But he also finds them beneficial when serving high-end clients who can afford the full Mikel Welch treatment. "My two lead designers don't even live in New York City, so it's just easier on everyone, and now the client can live anywhere," says Welch. "We put all the samples in a really pretty box and mail it out. So I've incurred a new cost which is about $80, but we go through every piece and I love doing it that way."
What's more, Welch has developed a new appreciation for vendors, and he's found himself leaning more heavily on the expertise of showroom staff. "I have this new trust with my vendors, and they've become a part of the process. I used to see them as customer service reps that were just facilitating the order, but now I see them as artisans of their craft. I can call them and say hey, can you pull out your swatches and help me match up this Farrow & Ball paint?"
Communicate, Communicate, Communicate
When you're not meeting regularly face-to-face, being proactive with clients is key. "If something's not available or taking longer than expected, a quick call with an update can go a long way in managing client expectations and making them feel like they're a priority even though you're not in front of them," says Todhunter. "Never let them reach out to you and ask 'where are the chairs?' We have an e-mail out to every client at the end of every week with the status of everything."
And if you've got a hybrid office with staff members working from home, you need to be mindful of more than just the client. "I keep in close touch with my team, with daily design meetings," says Todhunter. "I want to make sure everyone's looked after and not just enjoying what they're doing, but also that they feel like they have direction."
Go Beyond Social Media
Everyone agrees that keeping up with social media is a must, but there are other sources of online exposure—and you should seek them out, says Welch. He gained a whole new audience through a virtual work collaboration with Benjamin Moore, for example. "And webinars are another great example of ways you can work with other brands and connect with people who aren't familiar with your work. It all spirals into something else!"
Want to listen to our full conversation about remote work as an interior designer? Watch the full video with Mikel Welch, Samantha Todhunter, Sara Barney and Benni Frowein below, and be sure to follow Schumacher on YouTube for more interviews with interior design tastemakers and webinars on the business of design!