In his two much-loved collections for Schumacher, fashion designer Johnson Hartig has brought the bold and colorful sensibility of his line, Libertine, to a series of wildly imaginative wallcoverings, fabrics and trims. Among Hartig's most popular fabrics is Dazzle Ship Velvet, a striking geometric cut velvet that comes in four fabulous colorways. Used on a throw pillow, it's an eye-catching accent; in a larger dose on a chair or a sofa, it's guaranteed to lift the mood of an entire room. Yet the origins of Dazzle Ship's evocative name may be as intriguing as the design itself.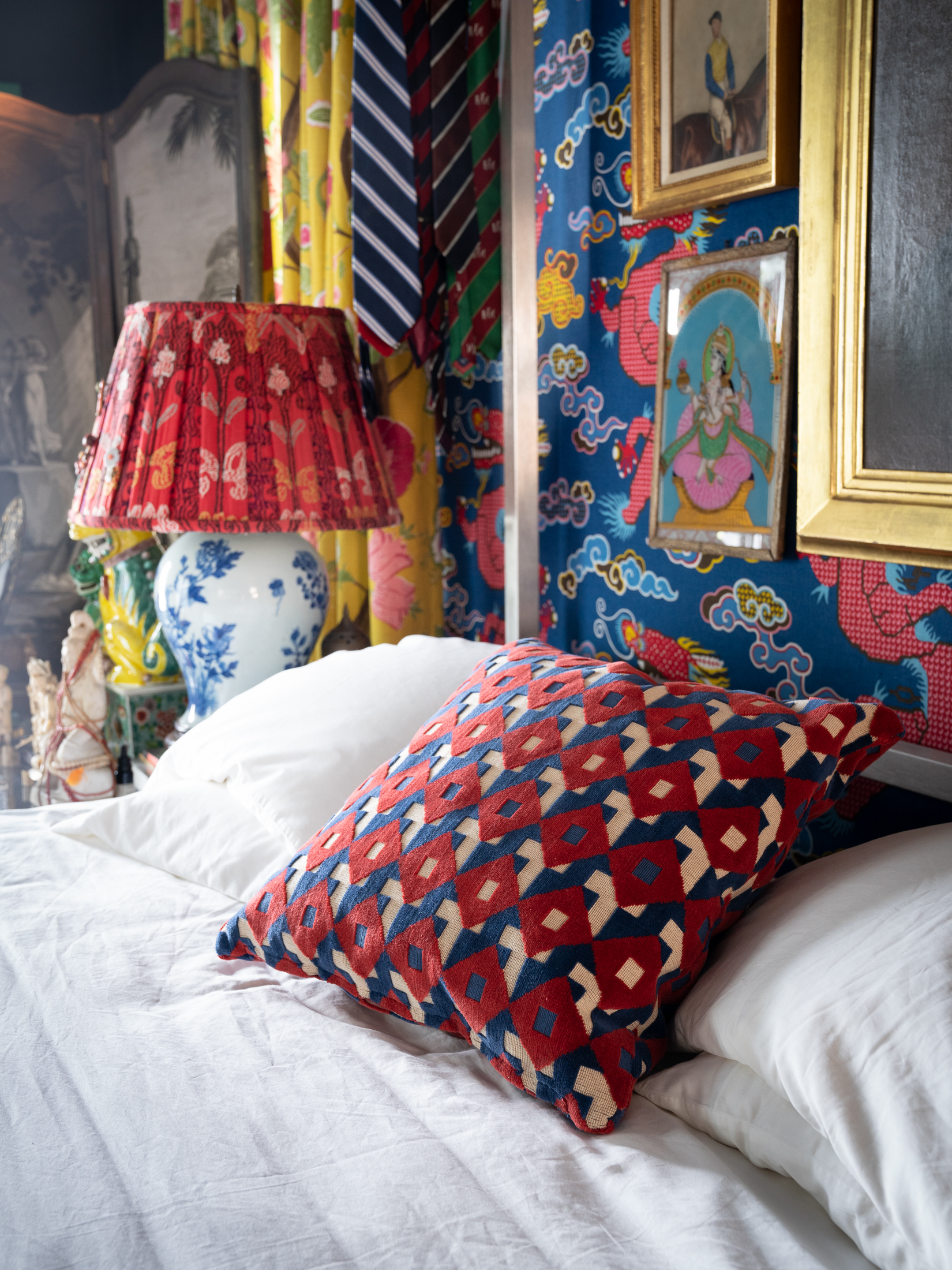 So what is dazzle ship? Hartig explains that during World War I, the British camouflaged their large naval ships by painting the sides with abstract designs—black-and-white stripes, blue-and-gray zig-zags and elaborate swirls—in a concept referred to as "dazzle camouflage." The idea was not to conceal the ships (if anything, the large-scale patterns made the vessels even more noticeable) but to obscure their true shape and position.
"The original dazzle ships amaze and delight me," Hartig says. "The idea was that the radical, almost cubist painted patterns would confuse the enemy, making it more difficult to figure out the boat size, distance, speed and even which direction they were traveling in. The Germans wouldn't know where to aim their missiles." Hartig says he saw an echo of these brilliant graphic motifs in the repeated pattern of the cut velvet he designed with Schumacher.
As a naval strategy, dazzle camouflage produced mixed results—though both the British Royal Navy and the United States Navy went on to launch thousands of dazzle-camouflaged ships over the course of the two world wars. They even tried out the concept on aircraft.
From a purely artistic standpoint, however, there's no denying the visual appeal of such wild graphic motifs rendered on a monumental scale. The concept of dazzle camouflage is in fact credited to an artist, the British marine painter Norman Wilkinson, and many artists of the day were in turn moved to paint seascapes featuring these remarkable vessels.
For Hartig, the appeal of dazzle ships doesn't end there. "In 1983, the English electronic band OMD released Dazzle Ships," he says, "and it was one of my favorite records when I was a kid." (The album's cover art is an interpretation of a dazzle camouflage pattern.) Proving that there is more to a name than meets the eye, Dazzle Ship Velvet pays homage to a fascinating moment in design history—viewed through the fresh, modern lens that is signature Hartig.