Should you charge a flat fee or ask for an hourly rate? What about commissions and retainers? Designers don't often share the details of their billing structure. So it's no surprise that figuring out what is fair for you and the client can be a huge challange. To give you a hand, we turned to a panel of pros who've had years of practice when it comes to sending out invoices and getting paid. Timothy Corrigan of Timothy Corrigan Inc, Mallory Mathison of Mallory Mathison Inc and Lori Paranjape of Mrs. Paranjape Design + Interiors sat down with Benni Frowein, CEO of Schumacher Europe, to reveal their secrets.
Mallory Mathison
"When I'm interviewing with prospective clients, I tell them that it's really important to talk to at least three designers," says Mathison. "And you're going to get three different ways that they set up their billing structure. If you talk to 10, you might get 10 different ways. My fee structure is based on what has and hasn't worked for both me and my team and my clients."
What's your basic billing structure?
An hourly rate for all design-related time, plus a percentage markup on all purchased items.
How do you set your hourly rate?
Mathison's standard rate flexes depending on the client relationship and the scope of the project. Junior members of her team bill their time at lower rates. Time bills are sent to clients every 60 days, starting from the beginning of the project.
"At the end of 2019, I went through my invoices and realized that I was still charging an old client my original rate from 2007. So I e-mailed all of my long-term clients and kind of informed them of my new rates for any continuing projects. Across the board every single client said, 'Absolutely, you should raise your rates. I can't believe we didn't address this five years ago.'" Mathison advises designers learn from her mistakes and make sure you audit your rates on a regular basis.
What gets billed by the hour?
Everything design-related. "Once product selections are made and designs are finalized, I do not charge for phone calls or e-mails, or back-of-house administrative things like sourcing, pricing, invoicing or coordinating deliveries. Even though that takes a lot of time, I feel the markup on items covers those costs," says Mathison.
How do you handle markups or commissions?
"I don't have a flat markup for everything across the board, but we're selling products from vendors and workrooms that we've worked hard to establish direct relationships with, and we're getting better pricing than a retail store would. I pass that savings along to my client so we're making a commission and they're getting a better price than they would if they walked into a store and purchased it.
My overall goal is to make a client's budget go as far as it can, whether it's $10 or $1 million. We're trying to create value with our time, with the product we're selling, and the designs we're presenting."
What are your payment terms?
"We require 100% payment up front on fabrics, trims, wallpapers, antiques—anything we're purchasing outright. For custom-made pieces, we charge a 50% deposit and 50% before delivery. If a project is on a tight timeframe, we'll take a 100% deposit on everything, but we try not to get in that position. But in general, we don't purchase anything until we have collected payment from the client."
What about flat fees?
"For me, a flat fee would not work because some projects go on far longer than originally planned, and sometimes the scope changes dramatically. A client will say, 'Oh we're just doing this and that'—and now, wait a minute, we're taking it to the studs and building a guest house. So an hourly rate works better because the client knows they're going to be billed if the scope changes. And I know I'm going to be compensated for my time whether the project takes six months or six years."
Do you charge for travel time?
"I don't charge for in-town travel, which here in Atlanta is anything inside I-285. If it's in a suburb and it takes 45 minutes to 1.5 hours to get there, then I charge half my hourly rate for that. I think it's important to charge for travel because it's time you could spend on another project and bill at your full hourly rate. I feel half is reasonable, and clients feel comfortable with that."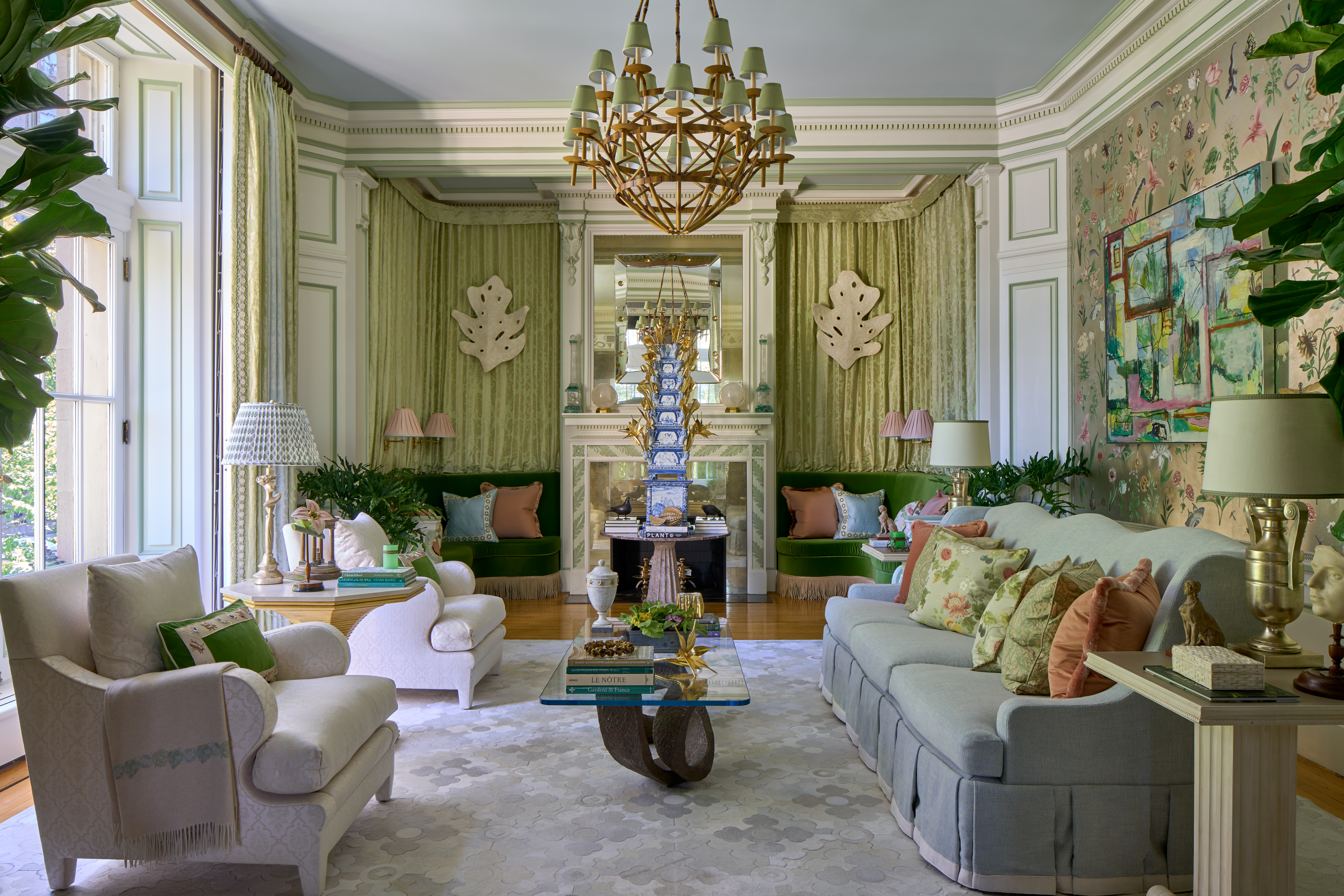 Timothy Corrigan
"There's so much distrust of designers because a lot of people have had a lot of trouble with them. We're seen as one step above snake-oil salesmen. So I feel the future of our business is transparency," says Corrigan. "I think that starts with us being transparent with each other, and with the rest of the designers in the industry." He's happy to share details on his fee structures with anyone, and encourages more designers to do the same.
What's your basic fee structure?
"I separate my fees into three distinct parts so it's very clear to clients that each part has its own complete and separate kind of compensation structure. If you're not doing architectural work, then you'll just be charged parts 2 and 3." The three parts:
Architectural specifications, which are charged at $25 per square foot. "Oftentimes we're given a box instead of a finished room. We're specifying every single item: the stone, the tile, the doors, the crown molding, the electrical plan, the lighting plan."
A design concept fee that's broken down into discrete areas and includes developing a budget and detailed floor plans and design schemes. "Instead of just giving the client one big lump sum, we've found it's easier for them to understand that we charge this much for the entrance hall and powder room, this much for the master suite, this much for the living room and so on."
Design Specifications. Once Corrigan and his team present their suggestions for fabrics, sofa silhouettes, artwork, etc., the Design Specifications phase starts. At this point, Corrigan only charges markups on a percentage basis, with no hourly fees.
Do you ask for a retainer?
Corrigan does charge a retainer for jobs on a tight timeline to avoid the risk of orders being delayed by the billing process. His solution? Opening a money market account in the client's name that he can draw from. "That's been enormously helpful and makes rush jobs so much easier because you don't have to wait for payment, and the client knows the money is there and they're earning a small amount of interest."
What gets billed by the hour?
"If we're going to make money when we buy an item, then we don't charge hourlies. To me, it feels like double dipping if you're charging to present things that you're going to get a commission on later."
How do you handle markups or commissions?
Corrigan charges a standard 35% on top of the net price of anything he purchases, whether he buys it at the Paris flea market or commissions a custom-made piece from a workshop. For expensive items, the markup is 35% for the first $50,000 and 25% for every dollar over $50,000. "If we're making a commission on an item, we don't charge for any meeting time, phone time, Zoom time, administrative time, travel time, installation time—all of that stuff is part of the markup."
What are your payment terms?
"For architectural specifications, we charge 25% at signing, 50% at approval and another 25% at some point during construction. We follow the construction all the way through, so when we charge the final 25% really depends on the scope and length of the project," says Corrigan.
And when it comes to purchasing items for clients?
"I learned long ago that you have to get paid before you place any orders. So we charge 100% up front for things like fabric, and for custom items it's 50% up front and 50% when the item is done, but before it's delivered."
Do you charge for travel time?
Corrigan doesn't charge travel time for projects in Los Angeles, but all out-of-town jobs come with travel fees, which are charged at 50% of normal hourly rates. "We're doing a job in Asia right now, for example, which we project will require seven trips. We based our fees on those seven trips. We won't strictly hold them to that, but we always give guidelines."
Lori Paranjape
"When I talk to clients, I make no mistake. Working with me will not cost them less, it may actually cost them more. But my clients are not out there Googling the price of furniture and comparison shopping. They have hired me because they want me to handle things for them. And they understand that my price is my price."
What's your basic fee structure?
For a new home design, Paranjape charges a flat fee plus the retail price for all purchases. Her flat fee starts at a minimum of $100,000 for in-town and $120,000 for out-of-town jobs. She then adjusts according to the scope and length of the project. "I also have an involved client rate and a hands-off client rate," says Paranjape. "If they just want to see an overall idea of what we're going to do and then let us go, that rate is smaller than if they would like to participate in every procurement and see three sofas and then narrow it down to one. That costs more."
"I also have a very unique business model," says Paranjape. "My business partner owns a retail store and she handles all of the invoicing, returns, damages, warehousing—all of those things. So aside from an office assistant, my team is all creative and we don't spend our time on purchasing."
Do you ask for a retainer?
"Yes, always. It's 25% of the flat fee plus a furniture retainer equal to 100% of the furnishings estimate, which is then used to purchase individual items."
What's your hourly rate?
"I have a few clients left from when I had an hourly rate, and in those cases I bill all time I spend working on their project. But for the most part, there's no recording of time or worrying about whether to charge for Zoom meetings. Part of what they're paying me to do is communicate with them."
How do you handle markups or commissions?
"We charge fair retail pricing for all of our furnishings, and we use a standard 2.2 or 2.4 markup to determine that. The price is equal to what you would find if you walked into a boutique and purchased an amazing custom-made piece of furniture."
What are your payment terms?
Paranjape breaks her flat rate down into four payments: A 25% retainer upon signing the contract, 25% when the project breaks ground, 25% at framing and the final 25% due right before installation. Payment for all furnishings is due before any purchases are made.
Do you charge for travel time?
The additional $20,000 in Paranjape's fee for out-of-town projects is designed to cover expenses associated with remote jobs, and it includes two trips to the work site. For all additional travel, she charges $3,000 a day plus expenses.
A Few General Lessons
"You should never put your own money behind a project. As the interior designer Palmer Weiss once told me, 'I'm not a bank, and I don't intend to become one.' There's no right or wrong when it comes to fee structure, but using your own money is always a big risk." – Benni Frowein
"If I tore my ACL, I'm not going to try to repair it myself. Our value lies in the fact that we can create a home that our clients cannot. That's where our value is. It's in our expertise. It's in our resources. It's in our creative minds." – Mallory Mathison
"Even if they could create it, they wouldn't want to go through the trouble and work required to do it! Design projects are much more complicated than most people realize. There are so many players and it requires an incredible amount of coordination and organization." – Timothy Corrigan
Want to listen to our full conversation about billing structures? Watch the full video with Timothy Corrigan, Mallory Mathison, Lori Paranjape and Benni Frowein below, and be sure to follow Schumacher on YouTube for more interviews with interior design tastemakers and webinars on the business of design.