Before denim, there was ticking. The original utility fabric, ticking served a purely practical purpose until its meteoric rise to design stardom in the mid-20th century. Read on to delve into the history of this highly versatile material—and discover a few of our favorite varieties from Schumacher's collection.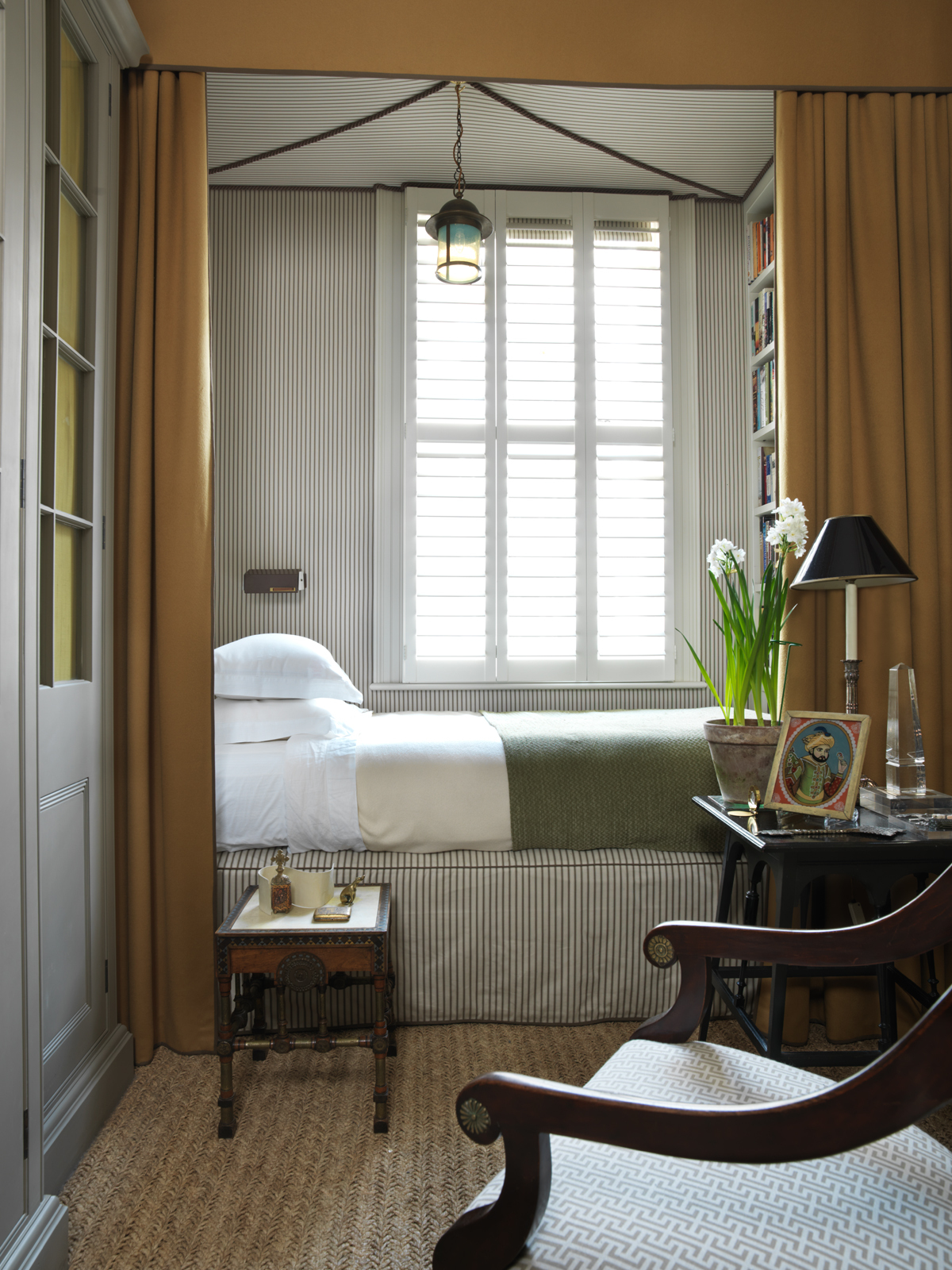 What Is Ticking Fabric?
Ticking was developed as a sturdy, practical, canvas-like casing for mattresses and pillows. When the term first appeared in the dictionary in 1649, mattresses were very different than they are today: They were stuffed not with soft, downy feathers, but with straw, horsehair, twigs, leaves, raw wool and all manner of things that could poke you in the night. The quality of the fabric, therefore, was judged by its ability to keep the prickly contents inside. Merchants tested it by holding it up to the sun; The best was so densely woven that no light seeped through. Ticking fabric proved so durable that it was used for heavy-duty work aprons, coveralls and even army tents.
What's In a Name?
But why is it called ticking fabric? Some claim the fabric has been in use for over 1,000 years, and the name likely evolved from the Latin word theca—case—or the Greek word thēkē, which means a case, box, cover or sheath. The original version was likely solid-colored and made of rough cotton, flax or cotton-linen twill. The variety that became popular (and ultimately gave rise to the term ticking stripe) originated in France and was woven with a fine herringbone pattern. Basic stripes—traditionally red or blue—were added to highlight the weave, and consisted of thin repeating central stripes, each flanked by even thinner side stripes.
The inexpensive fabric became ubiquitous in Europe, and its easy availability and large size led to another surprising use: as an artists' canvas. One study from the University of Split found evidence that 16th-century artists regularly painted their masterpieces atop striped mattress ticking—one of the earliest examples being The Battle of the Spurs, made in England circa 1513; It now hangs in Hampton Court Palace. Modern artists, too, have turned to the humble material. We're particularly smitten with Louise Bourgeois's use of the stripe, which she turned into sculptures and kaleidoscopic collages late in life (see Untitled, 2006.)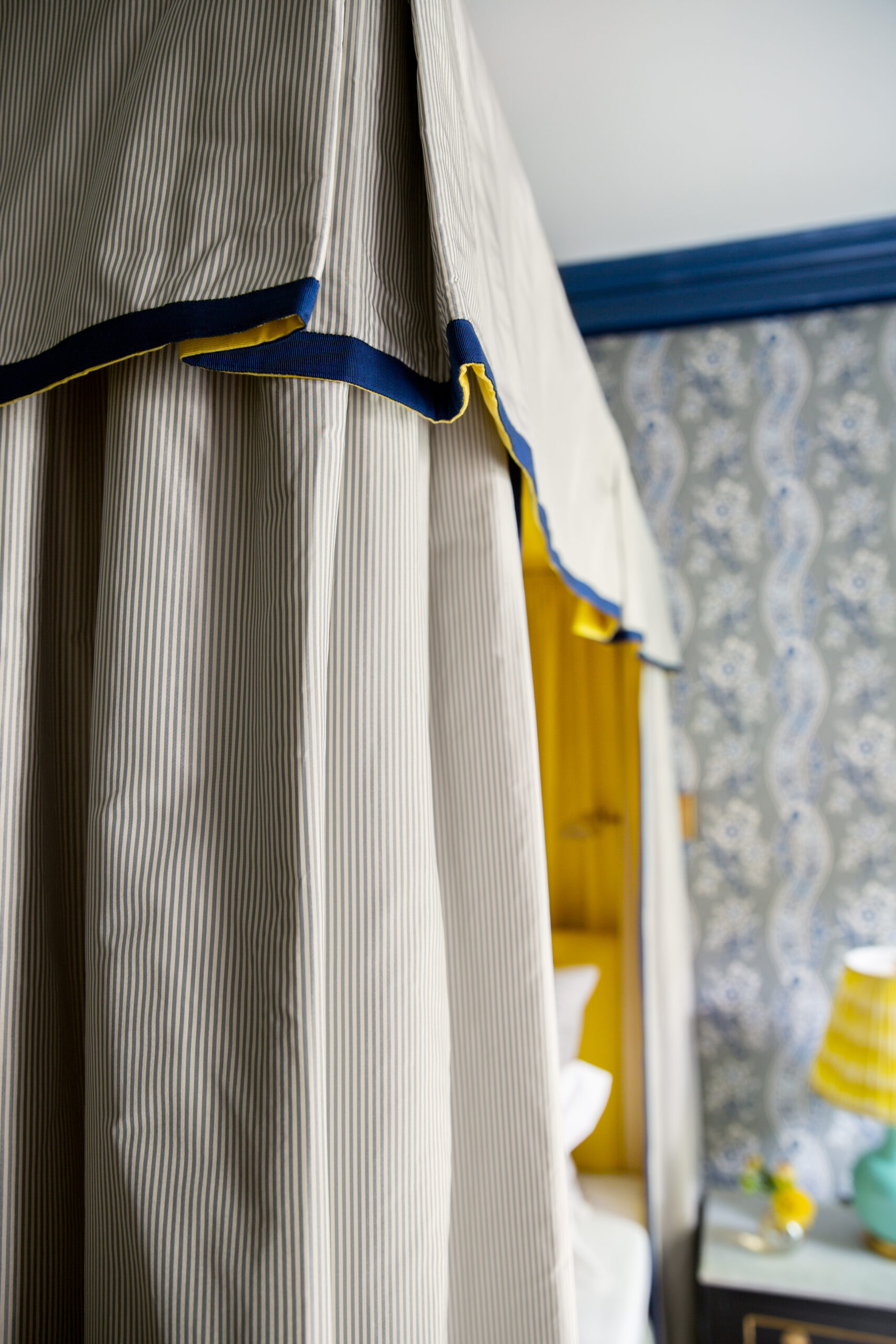 And Then Sister Parish Changed Everything
So how did this versatile textile go from workhorse to decorator's staple? Credit Sister Parish, the American design legend. Married in 1930 during the depths of the Great Depression, Parish was faced with the task of decorating her first home on a strict budget. Ever ingenious, she made drapes out of the sturdiest, most affordable material she could find: ticking fabric. Combining the utilitarian stripe with florals became one of the decorator's signature looks, and the ticking stripe has been going strong ever since.
Trading Places
Ironically, mattresses are now rarely, if ever, decked out in ticking fabric. In the 1950s, as manufacturers began marketing mattresses as luxury items and adding features like memory foam, ergonomic zones and pillow tops, they also gave them smooth and silky covers. Damasks, once among the most popular picks for drapes, are now the fabrics of choice for mattresses. Ticking stripes, meanwhile, are a favorite for dressing windows—quite the role reversal.
Always the Right Stripe
Wondering where to use ticking stripes? They read like a neutral, which means they fit in anywhere. And since they're perennially popular, the thin stripes can be found woven or printed on everything from thick upholstery fabrics to the sheerest cottons. Whether you pair ticking stripes with florals and toiles, use them to ground a maximalist room or play them off stripes of a different scale, it's a look with some serious legs.
Shop a few more of our favorite ticking fabrics below.