Shimmery, shiny and seemingly magical: Moiré fabric has enchanted the eye since the 1600s, and long been considered regal. King William listed meters of silk moiré in his official 1695 inventory for Hampton Court Palace, where it hung between tapestries in the royal state rooms. In 1700s France, Louis XV covered walls with the stuff, inciting a fashion craze among the elites. Queen Victoria was often painted and photographed wearing a blue moiré sash. In 1867, she dispatched an envoy to St. Petersburg to bestow a coveted royal sash upon Russia's Emperor Alexander II. He wore it to his daughter's wedding—and his own funeral. Moiré was also used to demarcate leaders both military and religious: Only cardinals could wear ferraiolo (the traditional cape worn by Catholic clergy) made of silk moiré. The silk moiré sash was so closely associated with aristocracy that George Washington stopped wearing his soon after 1776.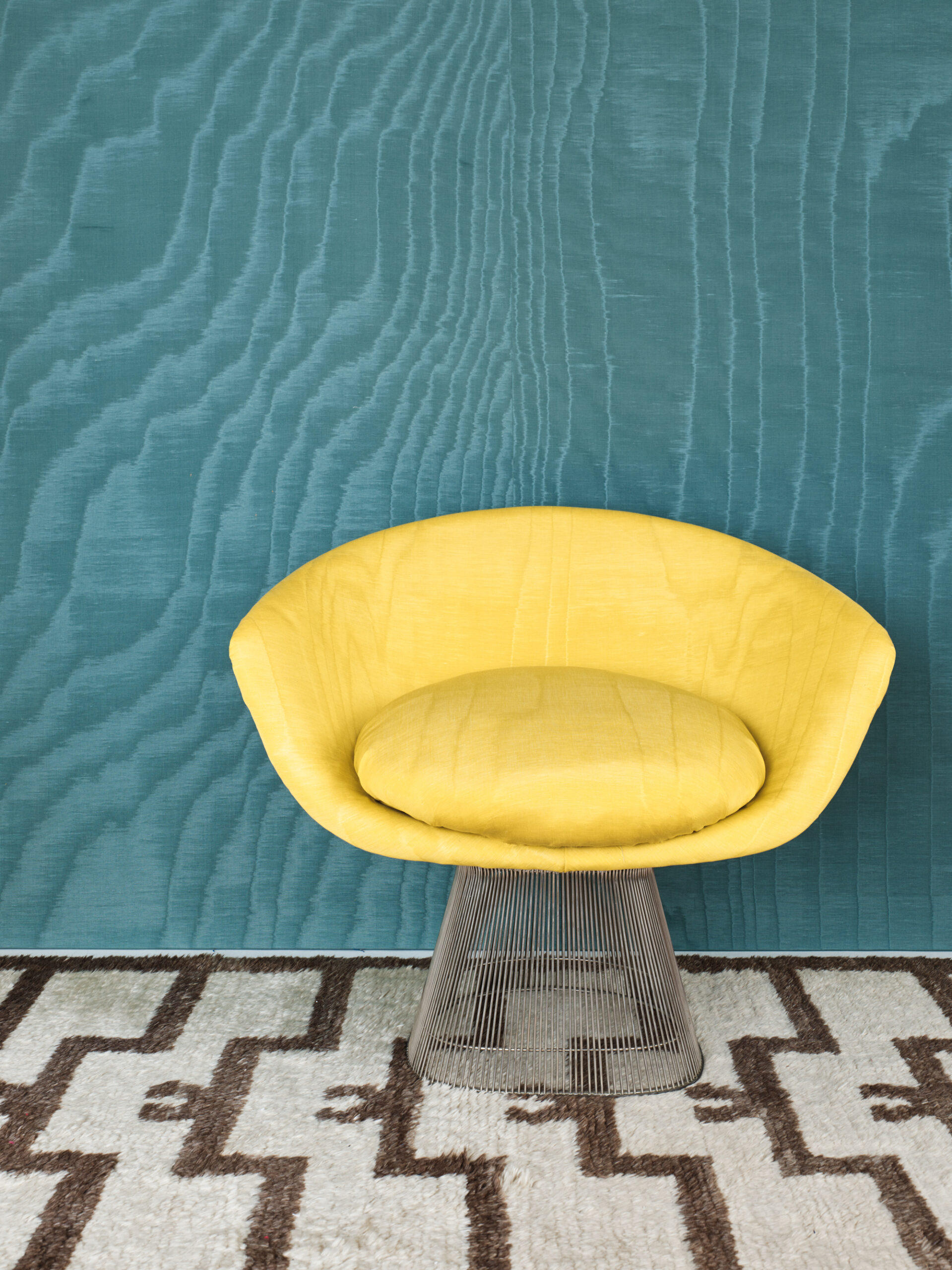 Since those early days, silk moiré has been a sort of shorthand for formality, used for both formal rooms and formal attire. In the 1950s, it was somewhat democratized by Dior and Givenchy, who fashioned it into ladylike day dresses instead of ballgowns. Moiré became even more accessible with the development of synthetic fabrics, appearing as ribbons and trims, prom dresses and decorative pillows. It fell out of fashion at the tail end of the 20th century, but it's coming back around again in a big way. Today's interior designers are making the most of moiré's lustrous texture while reimagining the fabric with bold placements and unexpected pairings.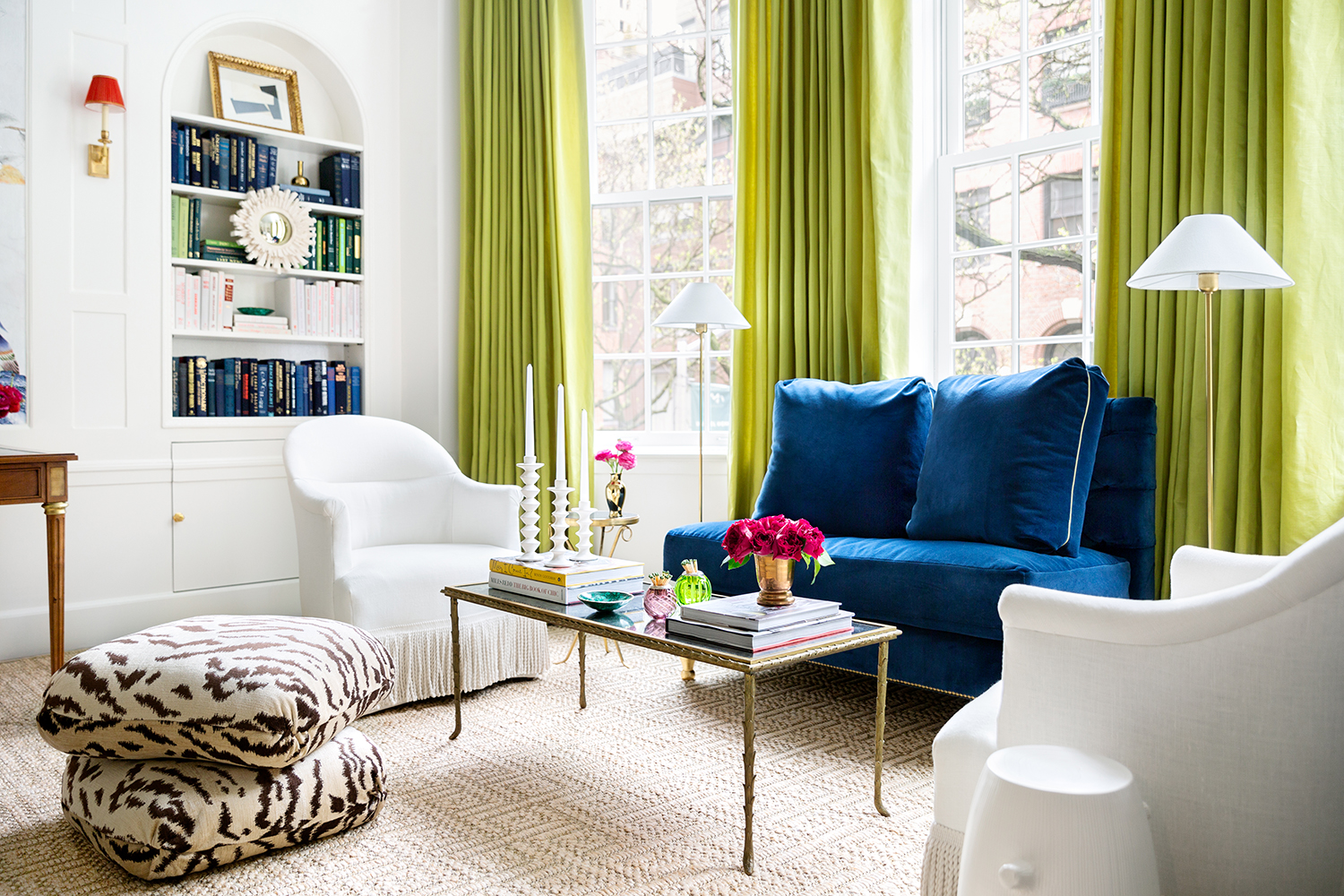 So, How Does Moiré Get its Magical Shimmer?
Technically, moiré is a pattern, not a material. It begins life as a plain woven fabric—ideally one that's thick and lustrous, such as silk (the historical option) or modern viscose. The fabric is moistened, then run through specially patterned rollers under high temperature and pressure. This process, called calendaring, crushes and alters the appearance of some fibers while leaving others untouched. The result is a surface texture that combines both glossy and matte, and appears to shimmer and vibrate with changes of light or angle. Depending on the pattern, these beautiful effects can give the impression of wood grain that's come alive, or of the movement of water. In fact, moiré is often called "watered" silk—although no one can quite agree if that's due to its looks or because water is used in its making.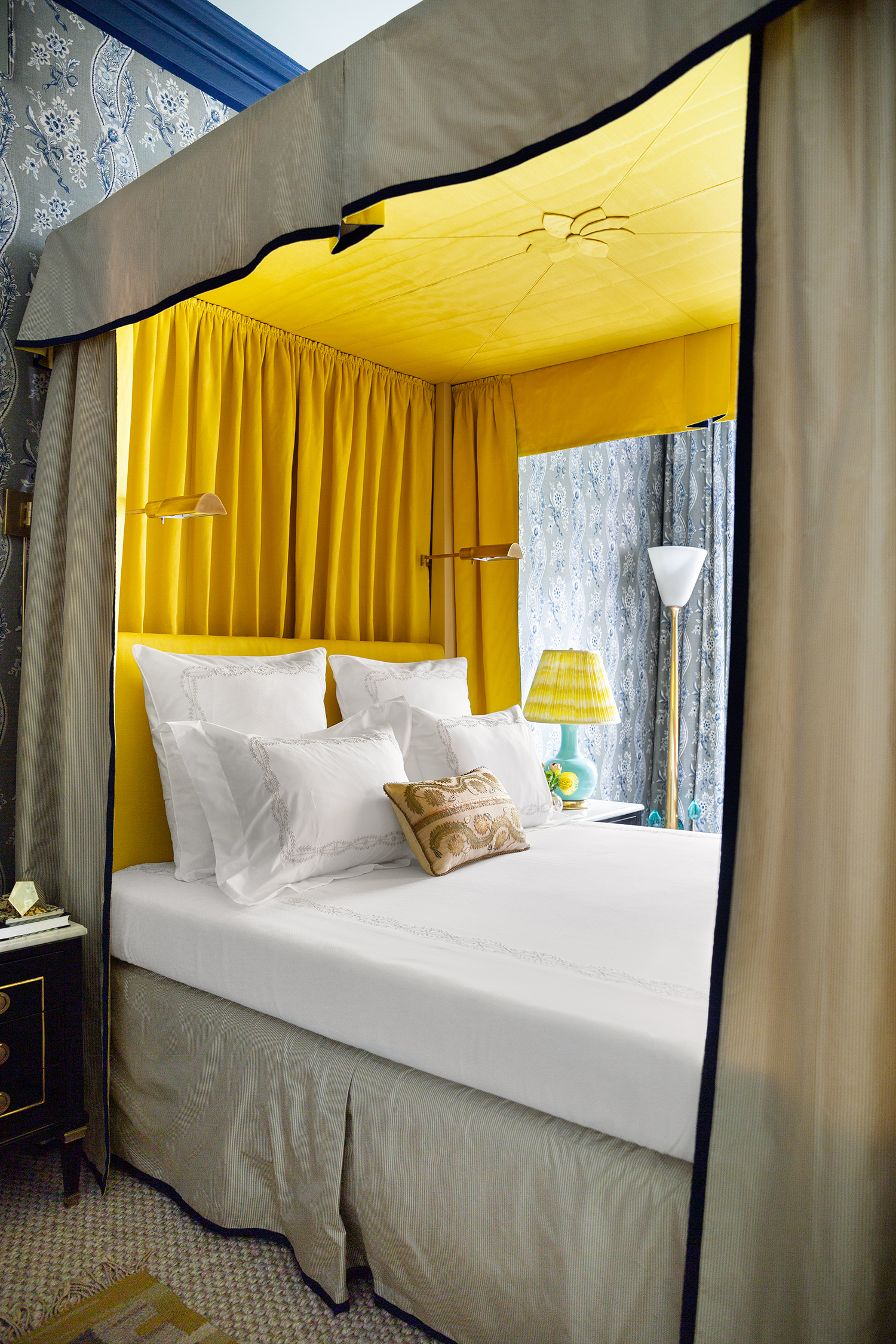 Looks Aside, What Makes Moiré So Special?
After calendaring, moiré fabric feels especially thick, with a stiff hand. This unique texture and unusual strength give it a special place among fabrics, making it well suited for both curtains and upholstery.
When it comes to caring for moiré, it should always be rolled, not folded. That's because it's prone to developing surface creases, which can't be steamed or ironed out. Note that, even though it's made with water, moiré fabric should only be dry cleaned. It loses some of its special luster if it gets wet.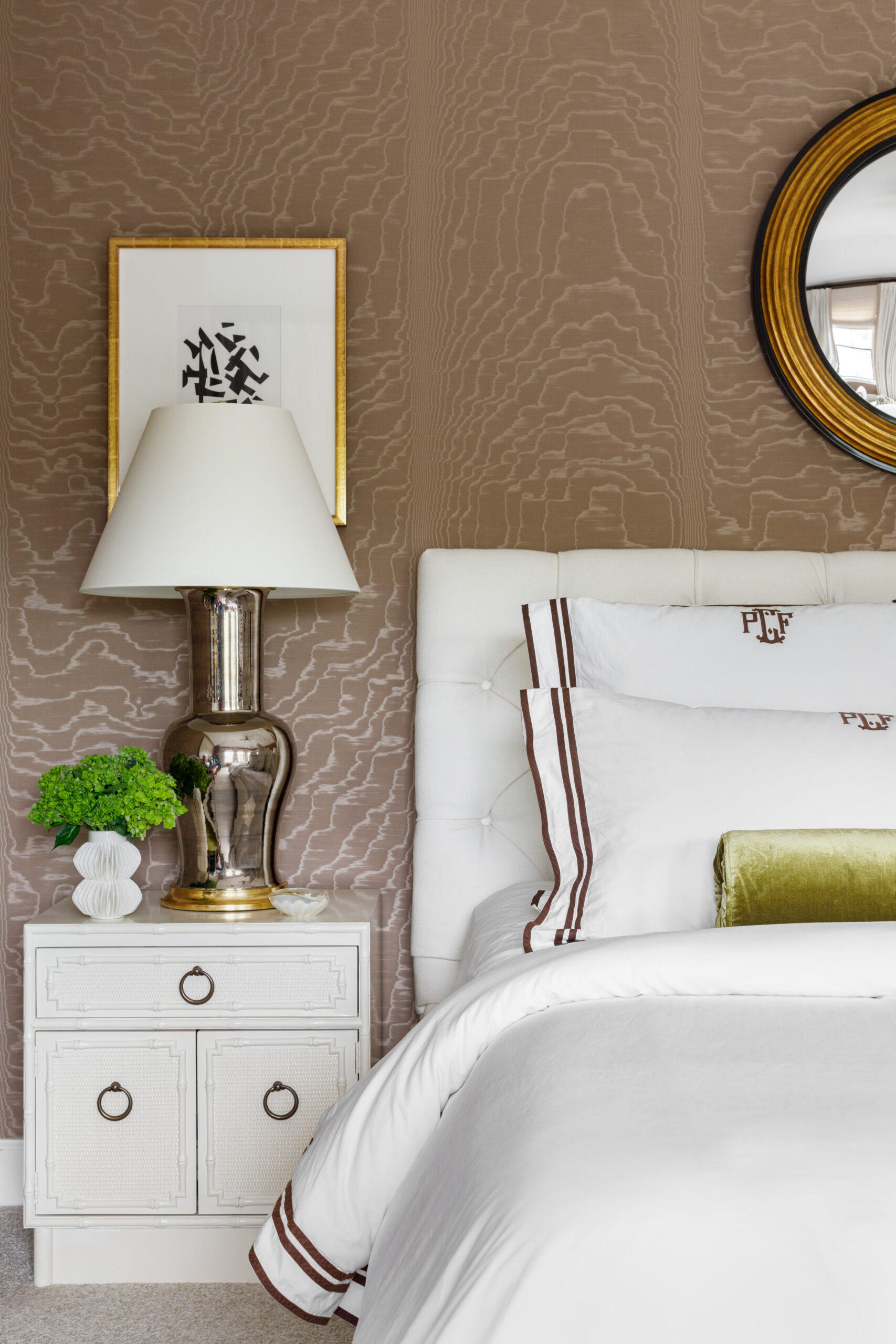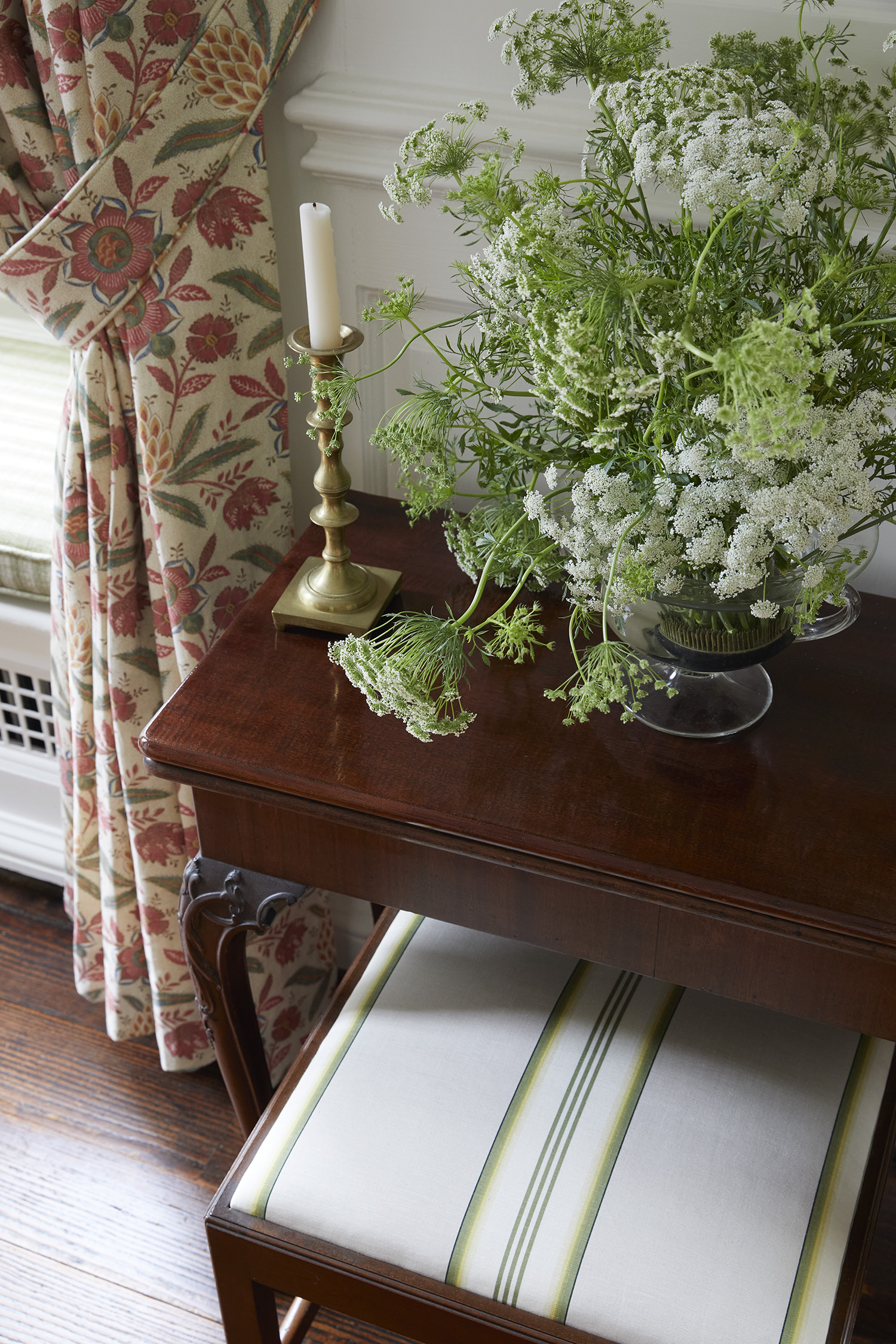 Where Does Moiré Fabric Work Its Best Magic?
Traditionally, moiré has most often been used for curtains in formal rooms, but it's sturdy enough for upholstery—try it on a midcentury chair or a clean-lined headboard for a luxe, modern look. We think it looks particularly stunning on upholstered walls, though it has enough impact to create small pops of luxury too: a petite pillow, a ladylike stool in a dressing room or a set of high-contrast tiebacks paired with more casual curtains.
Discover a few of our favorite moiré fabrics below, and shop even more luminous options here.