Sparkling sea views, lush tropical foliage, fragrant flowers in bloom—the natural beauty of Palm Beach is what first drew flocks of sun-seeking vacationers to this barrier-island paradise in the early-20th century. For New York-based designer Katie Ridder, whose firm took part in this year's Kips Bay Decorator Show House Palm Beach, this verdant setting provided abundant inspiration for a colorful primary-bedroom design.
Working with a palette of saturated blues and greens, Ridder created a tranquil, sophisticated retreat that nods to local flora and fauna and the designer's own horticultural prowess. "Gardening is a source of creativity and inspiration that is echoed in so much of my work as a designer," Ridder says. "I wanted the room to have a garden aspect to it, filled with birds and flowers."
As the showhouse recently wrapped its successful 2023 season, we asked Ridder to dive into a few of the gorgeous details of her space, from the stunning custom wallpaper to the repeated botanical motifs. We also got the scoop on the room's showstopping quilted headboard, featuring a velvet from Schumacher's Perfect Basics collection.
It's All in the Details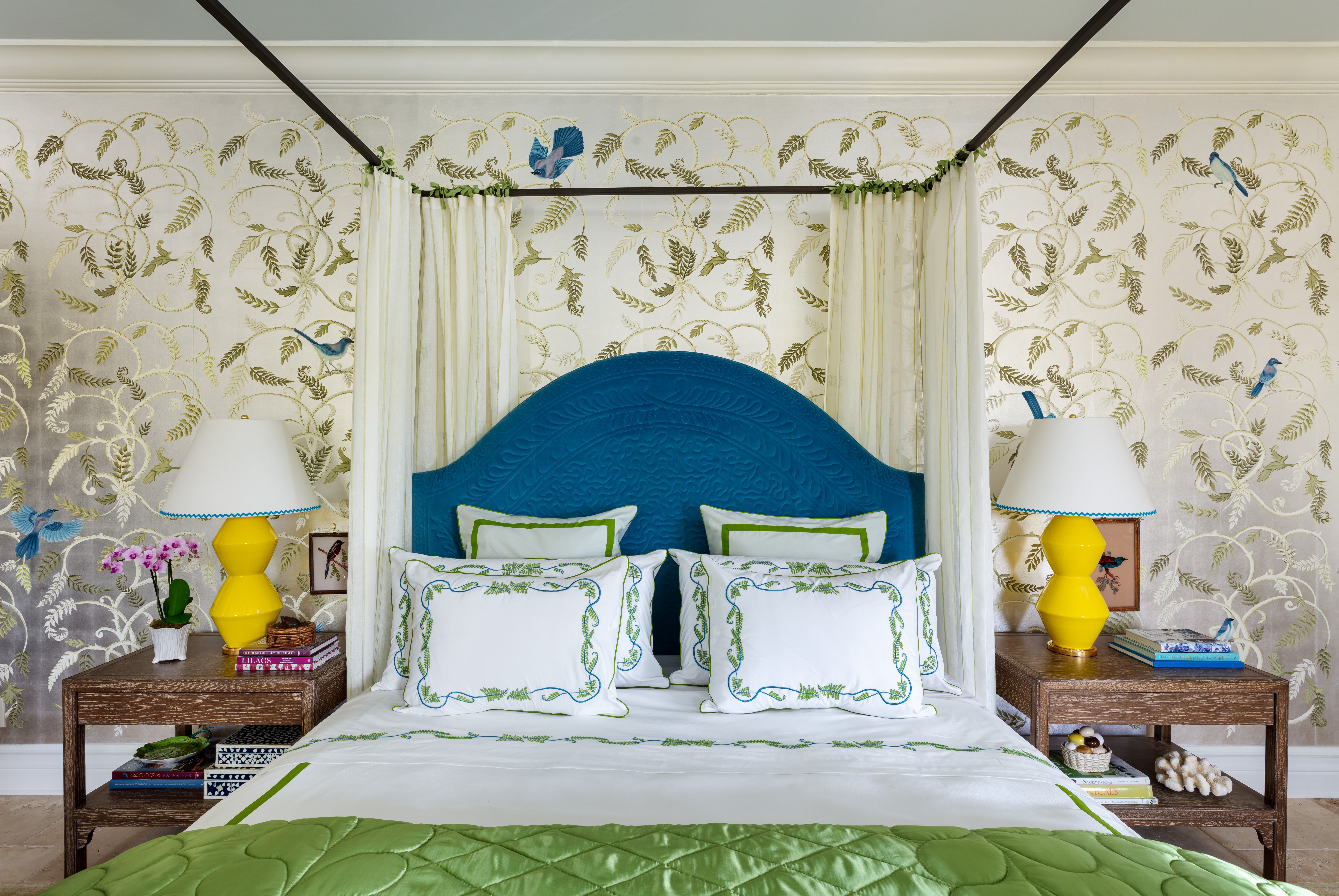 To make the most of the room's expansive footprint, Ridder incorporated a comfortable seating area and an elegant secretary desk ideal for dashing off a quick letter (or a few emails). "The space merges the unexpected whimsy and color of nature with the practical elements sought after by our clients," Ridder says. "These features create a multipurpose primary bedroom that is both comfortable and joyful."
Anchoring the large space is a dreamy canopy bed. Draped with gauzy sheer panels that soften its metal frame, the bed features an arched headboard in a rich blue Schumacher velvet, seemingly embossed with a meandering design that echoes the fern motif in the room's hand-painted wallpaper.
A closer look reveals the velvet is actually quilted—a detail Ridder brought to life with the help of renowned custom embroidery company Penn & Fletcher. "The team at Penn & Fletcher have such a generous wealth of knowledge and experience," says Ridder of the New York-based artisans, whose exquisite embroidered designs have graced theatre productions and runways in addition to residential interiors.
The center of the headboard features an open vermicelli design, a continuous undulating motif that dates back to the Renaissance, while a border of scrolling fern leaves adds structure and symmetry. Stitched with thread that precisely matches the color of the velvet ground, the pattern is revealed entirely by the play of light against the soft velvet nap.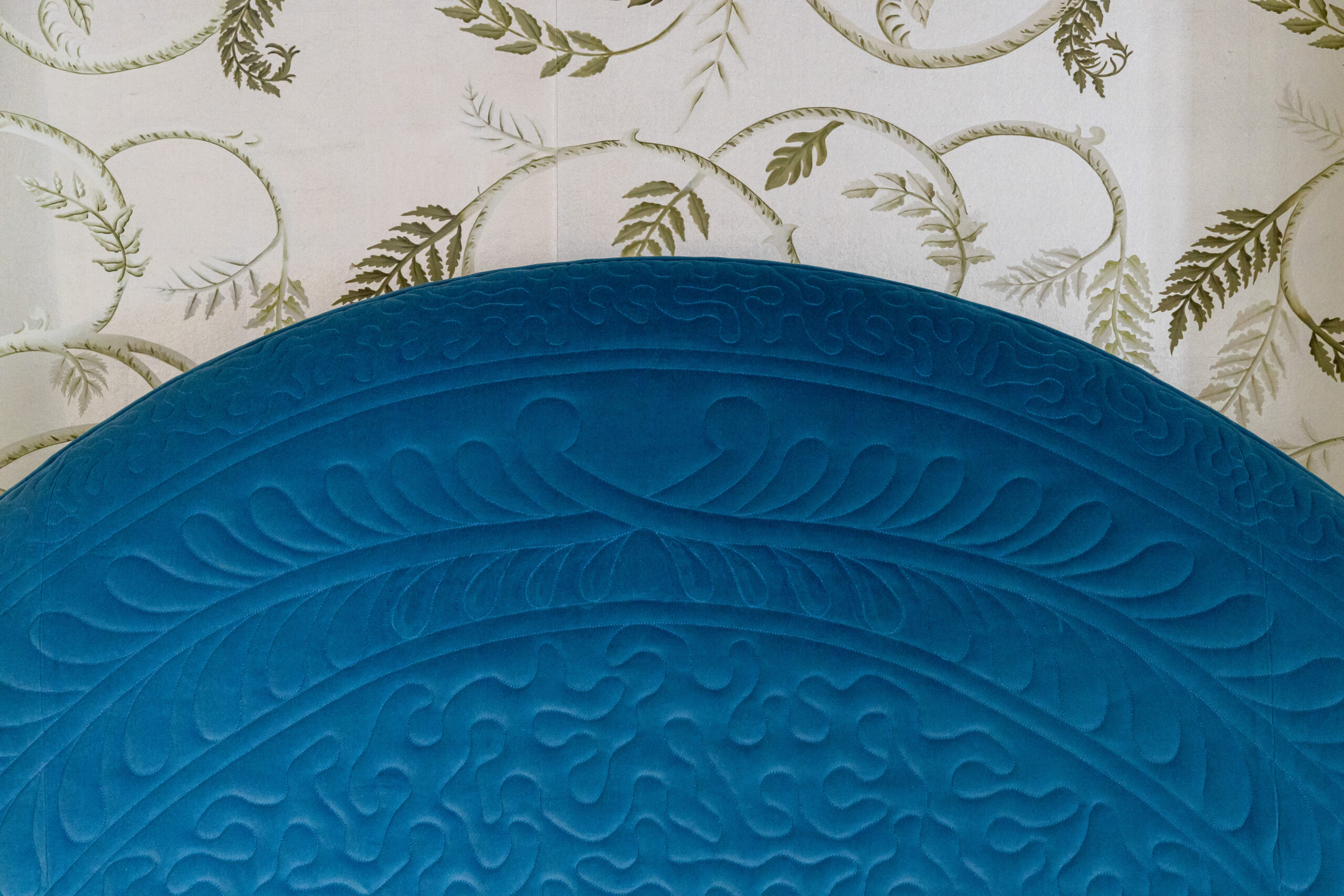 As with many elements of the most successfully decorated spaces, the quilted headboard was a true collaboration between designer and artisan. After partnering on numerous projects, Ridder's firm and Penn & Fletcher have developed an easy rapport—a huge help when working within the short timelines of a showhouse.
"We are lucky to be able to work with vendors like Penn & Fletcher, who over the years have come to understand my likes and dislikes," Ridder says. "It truly is such a pleasure working with their creative team because we are able to come together and create wonderful ideas and designs."
"Gardening is a source of creativity and inspiration that is echoed in so much of my work as a designer."
About the Kips Bay Decorator Show House
Each year since 1973, the Kips Bay Boys & Girls Club has raised funds for New York City kids in need by transforming a Manhattan home into a must-visit showcase of the best of interior design. In recent years, the prestigious Kips Bay Decorator Show House has expanded to include locations in Palm Beach and Dallas, Texas.
The 2023 Kips Bay Decorator Show House Palm Beach was the sixth iteration of this seaside show house, and we are thrilled to have been featured in so many gorgeous spaces. More importantly, we're incredibly proud to support a charity that helps New York City kids.
If you would like to learn more about this incredible organization, click here.