Although the name of the pattern has fishy origins—it was named after the skeleton of a herring, which it closely resembles—there's nothing inelegant about herringbone. This fancy take on a twill has been a staple of sophisticated suiting since suits were invented, and everyone from Clark Gable to David Bowie has been seen sporting the look, which never goes out of style—King Charles has been wearing the same herringbone-patterned Anderson & Sheppard double-breasted overcoat since he was a prince in the '80s. Ladies haven't been left out of the action, either: see Diane Keaton and Chanel handbags. This enduring, durable pattern also makes particularly handsome upholstery fabric, which depending on the scale can skew old-school classic or new-school fun.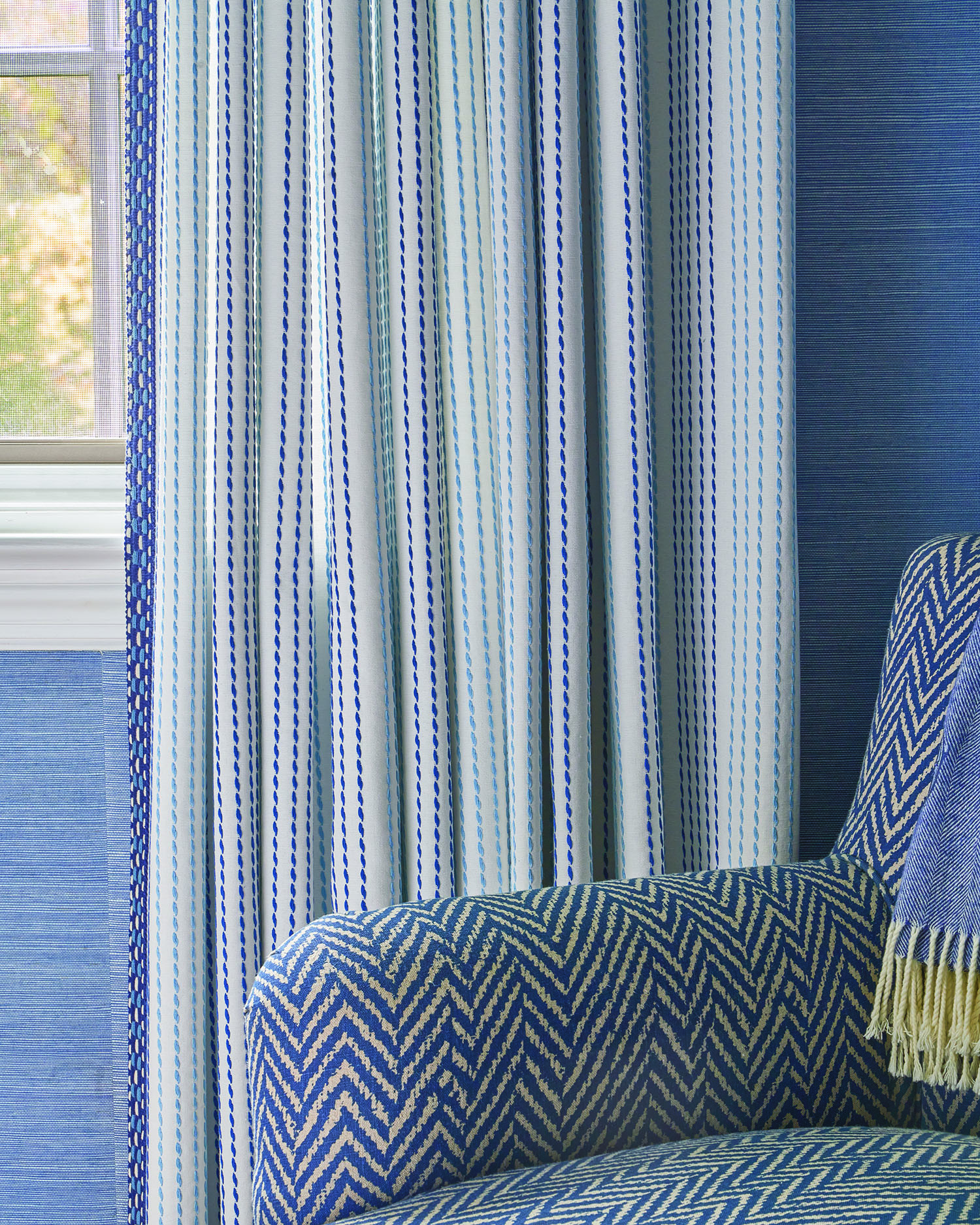 But What, Exactly, Is Herringbone?
Also known as a broken twill weave, herringbone isn't a type of fabric, but rather a specific weave with a distinctive V-shaped pattern. What distinguishes it from a standard twill or a chevron? A standard twill has parallel ridges that repeat on the diagonal, while a chevron has continuous zigzagging lines. Herringbone, meanwhile, is a more complicated weave with colors that break at the reversal of each V—in essence, a zigzag that shifts color with each change in direction.
While traditionally made of wool, it can be woven out of linen, cotton or nearly any yarn imaginable. It's supremely durable yet gives textiles a refined texture and depth, and the impact of the pattern is easily dialed up or down with slight changes in scale. The dense weave of Schumacher's Bryton Linen Herringbone reads as a rich solid, while the larger repeat of Regent Velvet Herringbone—a modern take on the pattern rendered in cut velvet—is bold and geometric.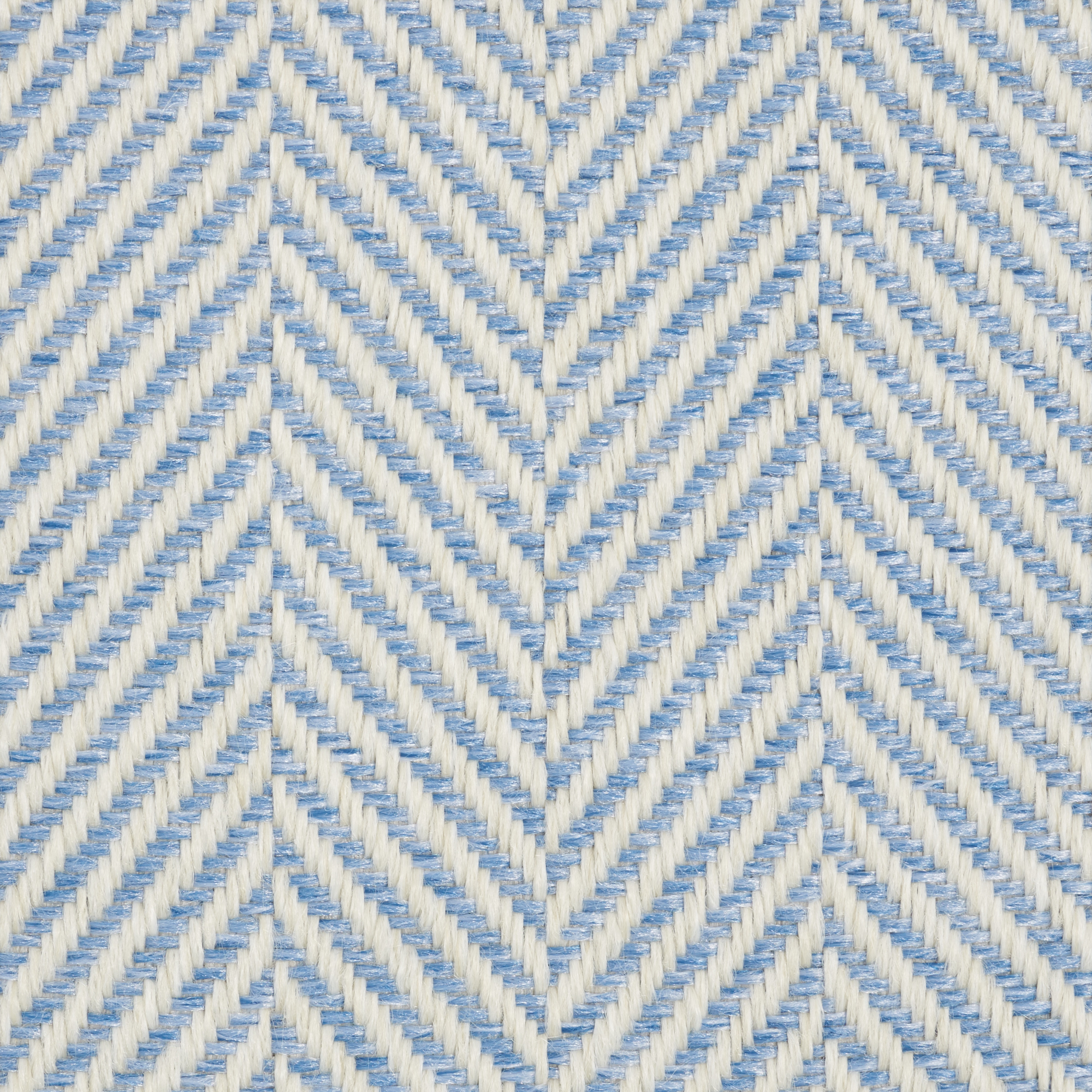 Who Invented Herringbone?
That's kind of like asking who invented the wheel. The pattern is so primal that evidence of it has been discovered in many ancient cultures. A horsehair band woven with a herringbone pattern dating back to the Bronze Age (750-600 BC) was unearthed in a peat bog in Northern Ireland. Glimpses of the pattern can also be found in the tombs of Ancient Egyptian pharaohs, and in the brick roads of the Roman Empire. The builders of those 2,500-year-old roads called it opus spicatum, or spiked work. The genius of this interlocking geometric pattern? It distributes the weight over twice as many bricks, making heavier loads—and smaller bricks—possible. The pattern was lost in the Middle Ages, but rediscovered during the Renaissance. In fact, it was the strength of herringbone brick masonry that made it possible for Renaissance architect Filippo Brunelleschi to create the gravity-defying Duomo in Florence, which still remains an engineering marvel.
A Classic You Can Count On
Given that herringbone's history is one for the ages, there's no doubt its appeal will stand the test of time. So whether you have an heirloom sofa in need of new cushions or a modern piece you want to render timeless, we say herringbone is everlasting.
Shop a few of our favorite examples below.